MUSES & MELODIES (Hush Note #3) by Rebecca Yarros
Release Date: October 6th
Add to Goodreads:
https://www.goodreads.com/book/show/52697272-muses-and-melodies
AVAILABLE NOW!!
Amazon US: https://amzn.to/2JYCZLo
Apple Books: https://geni.us/A5OHl4x
Kobo: https://geni.us/mu2Ac
Nook: https://geni.us/w6Ze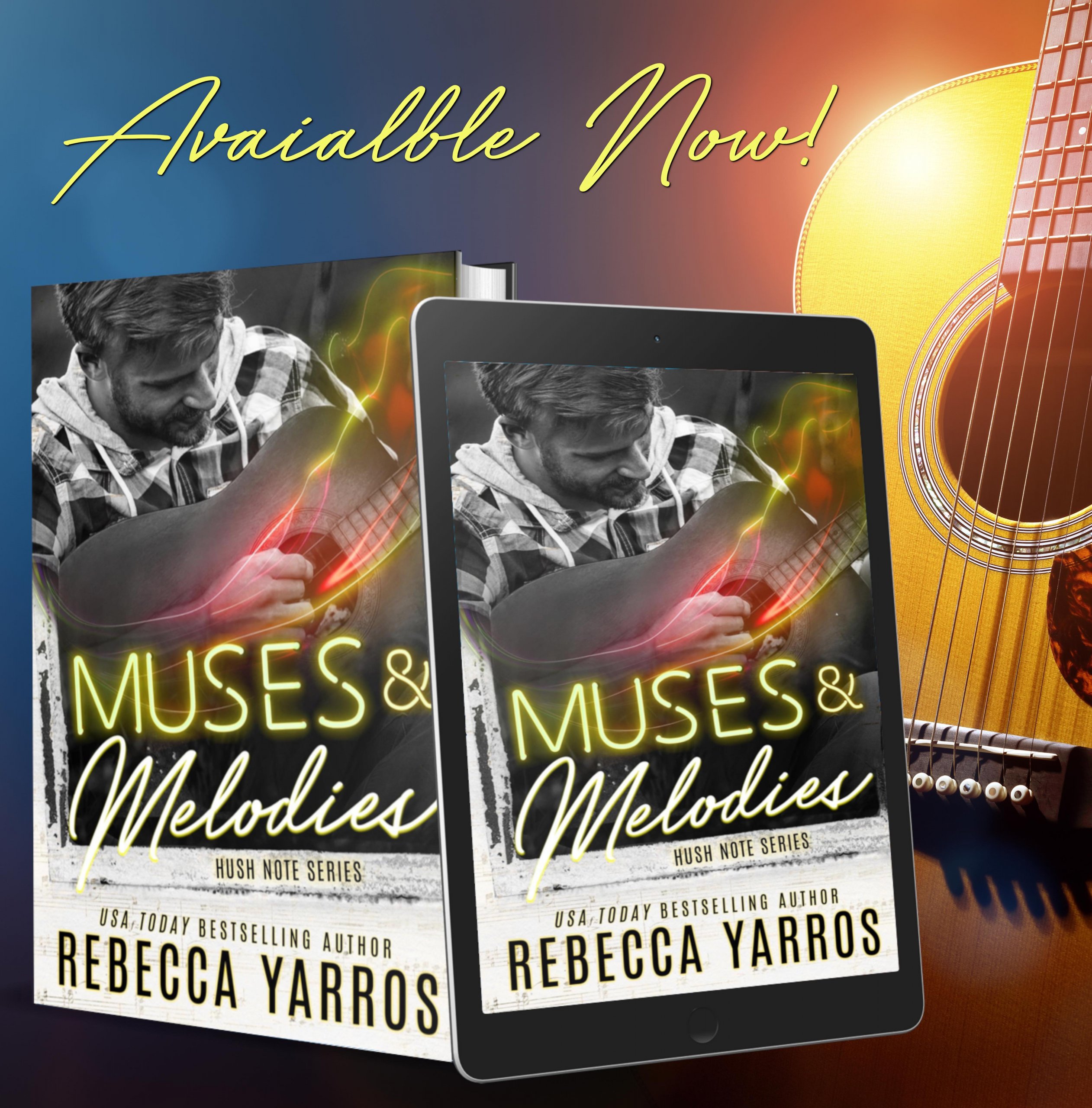 Blurb:
If I can keep Hush Note's leading guitarist, Nixon Winters, on the straight and narrow for the next six months, I'll finally get my own band to manage—assuming we don't kill each other first.
The egotistical, irritating rock star is fresh out of rehab, but it's obvious his demons followed him home—and now I'm sleeping down the hall. I've watched him self-destruct every summer, and with album deadlines and tour dates looming, I can't let it happen again. My career is in his hands.
But tattoos can't cover every scar, and I'm starting to see through his trademark, irresistible charm to the damage beneath.
Everyone wants the rock star.
I'm falling for the man.
If he doesn't let me in,
he'll never break the cycle—
And when these six months are up,
I might be the one left broken.
About the Author:
Rebecca is a Wall Street Journal and USA Today bestselling author of over fifteen novels, and is always ready to bring on the emotions. She's also the recipient of the Colorado Romance Writer's Award of Excellence for Eyes Turned Skyward from her Flight and Glory series.
She loves military heroes and has been blissfully married to hers for eighteen years. She's the mother of six children, ranging from kindergarten to law school, and is currently surviving the teenage years with two of her four hockey-playing sons. When she's not writing, you can find her at the hockey rink or sneaking in some guitar time. She lives in Colorado with her family, their stubborn English bulldog, and a feisty chinchilla. Having fostered then adopted their youngest daughter, Rebecca is passionate about helping children in the foster system through her nonprofit, One October.
Visit her website at www.RebeccaYarros.com for more!
Connect w/Rebecca:
Website: http://www.rebeccayarros.com
Facebook: http://facebook.com/rebeccaelizabethyarros
Facebook Group: https://www.facebook.com/groups/RebeccaYarrosFlygirls
Twitter: https://twitter.com/RebeccaYarros
Instagram: https://www.instagram.com/rebeccayarros
Goodreads: https://www.goodreads.com/author/show/7539785.Rebecca_Yarros
Bookbub: https://www.bookbub.com/authors/rebecca-yarros
Amazon: https://amzn.to/39ZKtZ6
Although Nixon's career as the guitarist with Hush Note's is a success it is much different when it comes to his personal life. He is a man who is haunted by his past and numbs his pain with dangerous behavior which is how he found himself in rehab. He is now back and set to go on tour with the band but not only does he face the challenge of trying to stay clean but the challenge of Zoe who has been tasked with ensuring that he doesn't veer off course.
Zoe is determined to complete the task she has been given but Nixon is just as determined to make it difficult for her. Every attempt she makes to ensure he stays on the correct path is met with opposition and while it may be infuriating, she sees that there is much more to the man than his behavior.
Zoe is exactly what Nixon needs in his life as her feisty and fiery attitude not only makes him feel alive but touches a part inside of him that was buried for so long while she sees him for the tortured man that he is and not the superstar who appears to be living the dream . This story takes us on an emotional ride that you won't be able to put down.