THE BURBS AND THE BEES
by Cathryn Fox
Publication Date: November 30, 2020
Genres: Adult, Entangled: Amara, Contemporary, Romance, Romantic Comedy, Small Town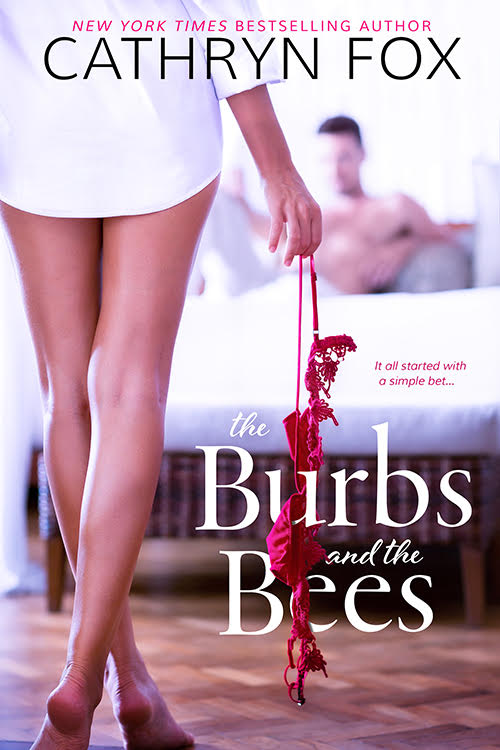 SYNOPSIS
I just inherited an apple orchard in Nova Scotia.
That's definitely a sentence I never would have imagined saying in my life.
I've only ever been a socialite from New York, but that orchard is my chance to prove to my family, and myself, that I can do more. Be more. I may not exactly know what I want out of life yet, but I'm determined to stick to something—and no, I'm not talking about the bee farmer next door.
Here's what I know. If I can't tough out one full month of a rooster waking me at sunrise, a poolhall parrot with a foul mouth, and a llama that swings both ways, not only will I lose my self respect, I'll lose my trust fund too.
Here's what I don't know. Why my neighbor with the bad attitude and a whole lot of sexy seems hell bent on sending me home. Well screw him. Not literally, of course. Except I just stumbled into his apiary, and got a look at the head beekeepers…stinger.
EXCERPT

I resist the urge to fist pump as I take a fast look at the ocean, then spin back around to see some guy waving at me. I poke my finger into my chest and cast a slow glance over my left shoulder.
Really, Alyson? Who else could he be pointing to? A gorgeous mermaid rising from the abyss, perhaps?
Okay, now who's the dumbass?
Wind whips my hair over my face, and I push it back as the guy hops on the rocks, hurrying toward me. Dressed in a short-sleeve plaid shirt, jeans and boots, he's cute in an outdoorsy, rugged fisherman kind of way. Hey, maybe this place is a pickup joint for the local lobster crew. Now I'm sort of glad I'm in my heels and mid-thigh skirt. Although men are not on my radar, not right now anyway. I have a point to prove to my family—and myself. A relationship of any kind will only distract me from my goals.
Wait, what is he saying to me?
I put my hand up to my ear and cup it. "I can't hear you."
He comes closer, and for a second, I'm a bit breathless, but it has nothing to do with the wind stealing the air from my lungs. The guy is smoking hot. He closes the gap between us, and I catch his scowl as his whiskey brown eyes narrow in on me. Pissed off much? Well, alrighty then. I guess this isn't a local pickup spot. Even if it was, that's not why this guy has his sights set on me.
Wait, he doesn't think…
Oh, crap.
"I'm fine," I say. "It's not what you think."
"You can't be down here." He hovers over me, his big body crowding mine. "Goddamn tourists," he mumbles. "You're all the same."
I glare at him. "Jeez, are all Nova Scotians this bad-tempered and quick to jump to conclusions?"
"When tourists put themselves at risk, yeah."
He reaches for me, and the fast, jerky movement of his hand takes me by surprise. I flinch backward, and my heel slips on the wet rock. I windmill my arms and try to regain my balance.
Dear God, this can't be happening.
"Oh, shit," he says, the anger in his tone changing to panic as I manage to grab his outstretched hand, tugging him off balance with me.
Oh shit, is right.
I gasp, and before I know what's happening, my legs go out from underneath me. I land on the rock with an undignified thug and slide straight into the ice-cold ocean, two hundred pounds of muscle tumbling in on top of me. Frigid water seeps into my clothes, under my skin, into my bones, and I kick and scream and struggle to reach the surface. But with this guy weighing me down, I might as well be wearing cement boots. A strong arm wraps around me and tugs me upward. I suck in a fast breath when we break the rough surface.
"Are you okay?" the guy asks.
I spit water, my teeth chattering uncontrollably. "Of course I'm not okay. Are you okay?" Despite what I know about the slippery rocks, my first instinct is to push away from him and swim toward the embankment. Using my fingernails, I claw the eel grass covering the rocks, but the action proves futile. A powerful wave hits me and tosses me against the unforgiving boulder. Lord, I hope that cracking sound wasn't my rib. I have no time to think about how much pain I'm in, as a new kind of fear takes hold.
I'm going to freaking die out here.
ABOUT CATHRYN FOX
New York Times and USA Today Bestselling author, Cathryn Fox is a wife, mom, sister, daughter, and friend. She loves dogs, sunny weather, anything chocolate (she never says no to a brownie) pizza and red wine. She has two teenagers who keep her busy with their never ending activities, and a husband who is convinced he can turn her into a mixed martial arts fan. Cathryn can never find balance in her life, is always trying to find time to go to the gym, can never keep up with emails, Facebook or Twitter and tries to write page-turning books that her readers will love.
Cathryn also writes New Adult Paranormal under Cat Kalen.
Website | Twitter | Facebook | Goodreads | Pinterest | Bookbub | Newsletter | Amazon Author Profile | Entangled Publishing

a Rafflecopter giveaway
https://widget-prime.rafflecopter.com/launch.js
★🍎💕★REVIEW ★🍎💕★
Alyson is determined to prove her parents wrong and show them that she can manage the apple orchard she inherited however she may have the drive, but the lack of experience could be downfall. Even though she doesn't get off to a good start with her sexy neighbor he always seems to be there when she needs someone the most.
Jay and his family own the neighboring honey farm and he is drawn to her in spite of himself. He knows that leaving her to fend for herself would be the wisest choice but there is something about her and the way she makes him feel that makes walking away more difficult every day.
The interactions between them are humorous and hot and it was so much fun watching the relationship develop between them.