🏀🔥𝙃𝙊𝙏 𝙉𝙀𝙒 𝙍𝙀𝙇𝙀𝘼𝙎𝙀 & 𝙂𝙄𝙑𝙀𝘼𝙒𝘼𝙔 🔥🏀
𝗣𝗲𝗿𝘀𝗼𝗻𝗮𝗹 𝗙𝗼𝘂𝗹 𝗯𝘆 𝗕𝗿𝗼𝗼𝗸𝗲 𝗢'𝗕𝗿𝗶𝗲𝗻 𝗶𝘀 𝗟𝗜𝗩𝗘! 𝗗𝗼𝗻'𝘁 𝗺𝗶𝘀𝘀 𝘁𝗵𝗶𝘀 𝗵𝗼𝘁 𝘀𝗽𝗼𝗿𝘁𝘀 𝗿𝗼𝗺𝗮𝗻𝗰𝗲!
#𝟭-𝗰𝗹𝗶𝗰𝗸 𝘁𝗼𝗱𝗮𝘆!
BLURB
Sydney Carr knows better than to mix business with pleasure. She's had a long, hard road to get to where she is now. She landed her dream job, and she's not about to risk it all for the newest basketball recruit.
The stakes are high for Colson Rush. When he's traded to the Miami Blaze, his focus is on one thing—winning. But when he helps a fiery redhead fight off a mugger, he can't deny the sparks between them. Although she tries, neither can she.
Too bad she's his new coach's daughter.
Giving into the temptation is one personal foul neither of them can back down from.
Personal Foul was previously featured in the Playing to Win Anthology and is now expanded to a full-length novel.
Cover Designer: Cover Art © Dee Garcia, Black Widow Designs
Goodreads: bit.ly/PersonalFoulGR
REVIEWS
"From the first page I knew this was going to be a good book. The way Colson and Sydney collided together was kismet. The chemistry was off the charts from the moment they met unexpectedly." ~ Jill, Goodreads
"I woke up this morning with a book hangover but it was definitely worth it! Colson and Sydney's story is captivating and enticing." ~ Donna, Goodreads
"This was an awesome story and an absolute must read! Brooke's writing is phenomenal! If you love sports romance or romance novels in general, this is the book for you!!!" ~Brittany, Goodreads
PURCHASE LINK
Universal Link: books2read.com/personalfoul
BookBub: bit.ly/PersonalFoulBB
GIVEAWAY:
To celebrate the release of Personal Foul, Brooke O'Brien has two giveaways going on!
$25 Amazon Gift Card + Signed Paperback Giveaway over on Brooke's Facebook Page
Check it out ⇒ facebook.com/authorbrookeo
Signed Paperback Giveaway over on Brooke's Instagram Page
Check it out ⇒ instagram.com/authorbrookeobrien
TEASERS
Review
Colson is a professional basketball player who was recently moved to town after being traded. When he comes to the aid of a sexy stranger and finds out that they live in the same building he is looking forward to spending more time with her. Finding out that not only are they co-workers but that she is coach's daughter is a complication he wasn't expecting.
Sydney doesn't want to do anything that could jeopardize her position with the basketball team or cause friction with her father or the other players. She knows that it would be in their best interests to stay away but that is easier said than done.
There is no denying the chemistry and connection between them but they both have pasts they must overcome. Colson knows that they belong together and he isn't about to walk away despite whatever obstacles they may face.
ABOUT THE AUTHOR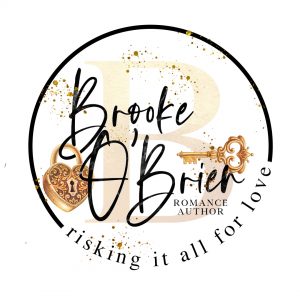 Brooke O'Brien is an author of steamy and swoon-worthy contemporary romances.
She believes a love worth having is worth fighting for, and she brings this into her stories where her characters risk it all for love.
If Brooke's not writing or reading, she's probably spending time with her family, binge-watching the latest crime documentary, indulging in chocolate, or watching Hawkeye football or NBA basketball.
She loves to interact with readers! Keep in touch with Brooke by following her on social media, subscribe to her newsletter, and join her exclusive Reader Group at authorbrookeobrien.com/follow.
AUTHOR LINKS
Website | Newsletter | Join Brooke's Rebel Readers Group |Facebook | Amazon | Bookbub | Twitter | Goodreads | Instagram | Pinterest