🖤🖤 𝑯𝑶𝑻 𝑵𝑬𝑾 𝑹𝑬𝑳𝑬𝑨𝑺𝑬 🖤🖤
𝙈𝙮 𝘽𝙚𝙖𝙪𝙩𝙞𝙛𝙪𝙡 𝙋𝙤𝙞𝙨𝙤𝙣, 𝙗𝙤𝙤𝙠 𝙤𝙣𝙚 𝙞𝙣 𝙒𝙞𝙘𝙠𝙚𝙙 𝙋𝙤𝙞𝙨𝙤𝙣 𝙨𝙚𝙧𝙞𝙚𝙨 𝙗𝙮 𝙐𝙎𝘼 𝙏𝙤𝙙𝙖𝙮 𝙗𝙚𝙨𝙩 𝙨𝙚𝙡𝙡𝙞𝙣𝙜 𝙖𝙪𝙩𝙝𝙤𝙧 𝙏.𝙇. 𝙎𝙢𝙞𝙩𝙝 𝙞𝙨 𝙇𝙄𝙑𝙀!!
#𝟭-𝗰𝗹𝗶𝗰𝗸 𝘁𝗼𝗱𝗮𝘆!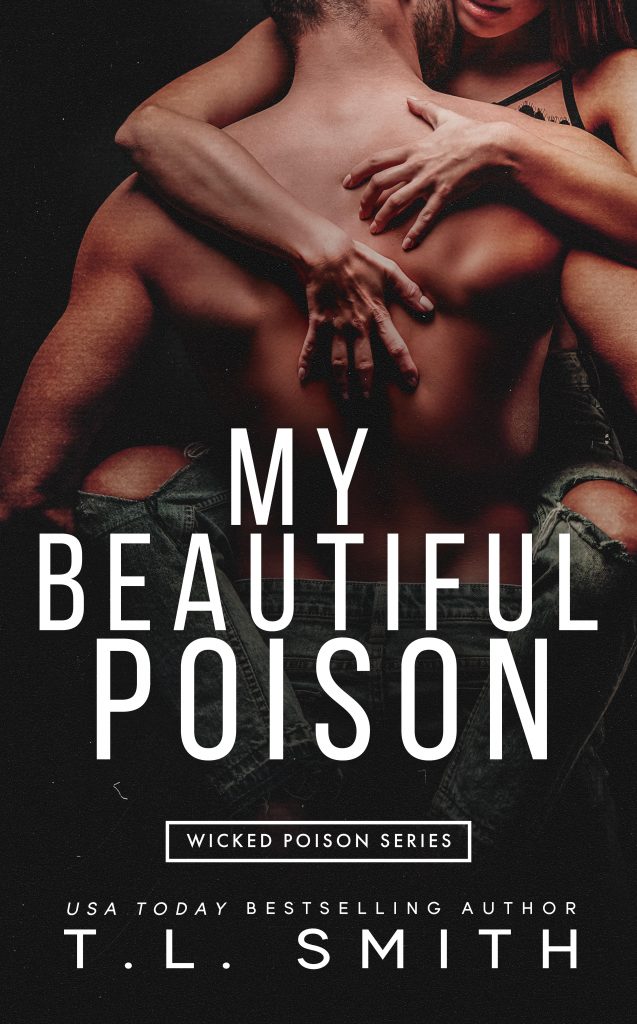 MY BEAUTIFUL POISON BLURB
I forgave him for the lies he told.
And I forgave him for breaking my body with his touch.
But I couldn't forgive myself for staying.
Until I met you… my antidote.
I knew I couldn't keep forgiving him, when I could be safe in your arms.
With your touch, there were no tears.
With your kisses, I could finally breathe.
You might be the villain in everyone's story…
But not mine.
PURCHASE LINKS
Apple ➜ https://apple.co/2DVFfTV
Kobo ➜ https://bit.ly/3j6FjzF
B&N ➜ https://bit.ly/3ndQBVB
Amazon ➜ https://amzn.to/2G8NVan
Amazon Aus ➜ https://amzn.to/360Q3fg
Amazon UK ➜ https://amzn.to/2HsMhBi
PRE-ORDER MY WICKED HEART, releasing February 9th
Amazon ➜ https://amzn.to/2GUczwe
Amazon Aus ➜ https://amzn.to/36qZiUK
Amazon UK ➜https://amzn.to/3kqRc3t
ABOUT THE AUTHOR
USA Today Best Selling Author T.L. Smith loves to write her characters with flaws so beautiful and dark you can't turn away. Her books have been translated into several languages. If you don't catch up with her in her home state of Queensland, Australia you can usually find her travelling the world, either sitting on a beach in Bali or exploring Alcatraz in San Francisco or walking the streets of New York.
AUTHOR LINKS
FB Page | Instagram | BookBub | Reader Group | Amazon | Newsletter sign up
Text Club: Text TLSmith to 312-728-8217 (US only for new releases of mine)
Review
Rylee was raised in an affluent lifestyle, but she is determined to forge her own path. She is finding it more difficult than she imagined to sever ties with the boyfriend that everyone believes is perfect for her but they don't know the man like she does.
August wants to be a better man but the people in his life are determined to ensure that it doesn't happen. After being granted a reprieve all he wants is a fresh start and to ensure the safety of the people he cares about.
Rylee is drawn to August in a way she hadn't expected and all she wants to do is support him however he is determined to protect her even if it is from himself. Rylee and August take us on an emotion filled journey that escalates to a cliffhanger that leaves us wondering what the future holds for this couple.