🖤🖤 ℍ𝕆𝕋 ℕ𝔼𝕎 ℝ𝔼𝕃𝔼𝔸𝕊𝔼 🖤🖤
𝐌𝐲 𝐖𝐢𝐜𝐤𝐞𝐝 𝐇𝐞𝐚𝐫𝐭, 𝐖𝐢𝐜𝐤𝐞𝐝 𝐏𝐨𝐢𝐬𝐨𝐧 𝐁𝐨𝐨𝐤 𝟐, 𝐛𝐲 𝐔𝐒𝐀 𝐓𝐨𝐝𝐚𝐲 𝐁𝐞𝐬𝐭𝐬𝐞𝐥𝐥𝐢𝐧𝐠 𝐚𝐮𝐭𝐡𝐨𝐫, 𝐓.𝐋. 𝐒𝐦𝐢𝐭𝐡 𝐢𝐬 𝐋𝐈𝐕𝐄!
#𝟏-𝐜𝐥𝐢𝐜𝐤 𝐭𝐨𝐝𝐚𝐲!
BLURB
He's a convict.
I am the prized daughter of a family known for their name.
We always knew it couldn't work, but that didn't mean we wouldn't try.
But when we did, it was all torn apart.
He was locked away.
And I was helpless to stop the mass destruction that followed.
He was wicked to my heart.
And just like poison, the effects can be dangerous.
PURCHASE LINKS
Apple ➜ https://apple.co/2GX0mqG
Amazon ➜ https://amzn.to/2GUczwe
Amazon Aus ➜ https://amzn.to/36qZiUK
Amazon UK ➜https://amzn.to/3kqRc3t
B&N ➜ http://bit.ly/35cA1xV
KOBO ➜ http://bit.ly/2LOdCjF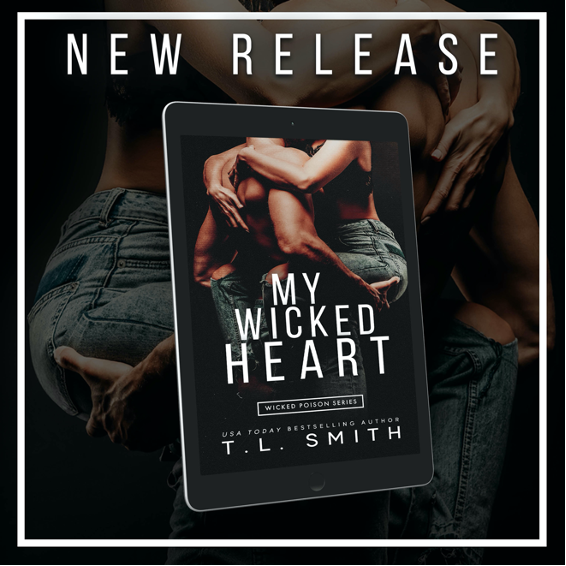 PURCHASE My Beautiful Poison, Book 1 in the Wicked Poison Duet!
Apple ➜ https://apple.co/2DVFfTV
Kobo ➜ https://bit.ly/3j6FjzF
B&N ➜ https://bit.ly/3ndQBVB
Amazon ➜ https://amzn.to/2G8NVan
Amazon Aus ➜ https://amzn.to/360Q3fg
Amazon UK ➜ https://amzn.to/2HsMhBi
ABOUT THE AUTHOR
USA Today Best Selling Author T.L. Smith loves to write her characters with flaws so beautiful and dark you can't turn away. Her books have been translated into several languages. If you don't catch up with her in her home state of Queensland, Australia you can usually find her travelling the world, either sitting on a beach in Bali or exploring Alcatraz in San Francisco or walking the streets of New York.
AUTHOR LINKS
FB Page | Instagram | BookBub | Reader Group | Amazon | Newsletter sign up
Text Club: Text TLSmith to 312-728-8217 (US only for new releases of mine)
Review
When tragedy strikes rather than facing it together August decides Rylee deserves so much more than he can offer so he just disappears. Rylee was devastated but with the help of friends and family she has picked up the pieces and created a new life for herself, but everything comes crashing down when years later a chance encounter turns both their worlds upside down.
It may have been chance, or it may have been fate that has August's world colliding with Rylee once again. Seeing her again wasn't supposed to happen but once he does walking away is no longer an option. Neither they nor their lives are the same so once all is revealed the toll on their hearts is immense and the outcome uncertain.
Rylee shows how strong and resilient she truly is while August's decisions although painful were made with the best of intentions as they take us on an emotional ride we won't soon forget.