🌵🔥 𝗛𝗢𝗧 𝗡𝗘𝗪 𝗥𝗘𝗟𝗘𝗔𝗦𝗘 🔥🌵
𝗥𝗲𝗺𝗲𝗺𝗯𝗲𝗿 𝗔𝗿𝗶𝘇𝗼𝗻𝗮 𝗯𝘆 𝗗𝗿. 𝗥𝗲𝗯𝗲𝗰𝗰𝗮 𝗦𝗵𝗮𝗿𝗽𝗶𝘀 𝗟𝗜𝗩𝗘! 𝗗𝗼𝗻'𝘁 𝗺𝗶𝘀𝘀 𝘁𝗵𝗶𝘀 𝘀𝗲𝗰𝗼𝗻𝗱-𝗰𝗵𝗮𝗻𝗰𝗲, 𝗳𝗿𝗶𝗲𝗻𝗱𝘀 𝘁𝗼 𝗲𝗻𝗲𝗺𝗶𝗲𝘀 𝘁𝗼 𝗹𝗼𝘃𝗲𝗿𝘀 𝗿𝗼𝗺𝗰𝗼𝗺 𝘁𝗵𝗮𝘁 𝗶𝘀 𝗵𝗲𝗮𝗿𝘁𝘄𝗮𝗿𝗺𝗶𝗻𝗴, 𝗵𝗶𝗹𝗮𝗿𝗶𝗼𝘂𝘀, 𝗮𝗻𝗱 𝗱𝗲𝘀𝗲𝗿𝘁-𝘀𝗰𝗼𝗿𝗰𝗵𝗶𝗻𝗴 𝗵𝗼𝘁!
#𝟭-𝗰𝗹𝗶𝗰𝗸 𝘁𝗼𝗱𝗮𝘆!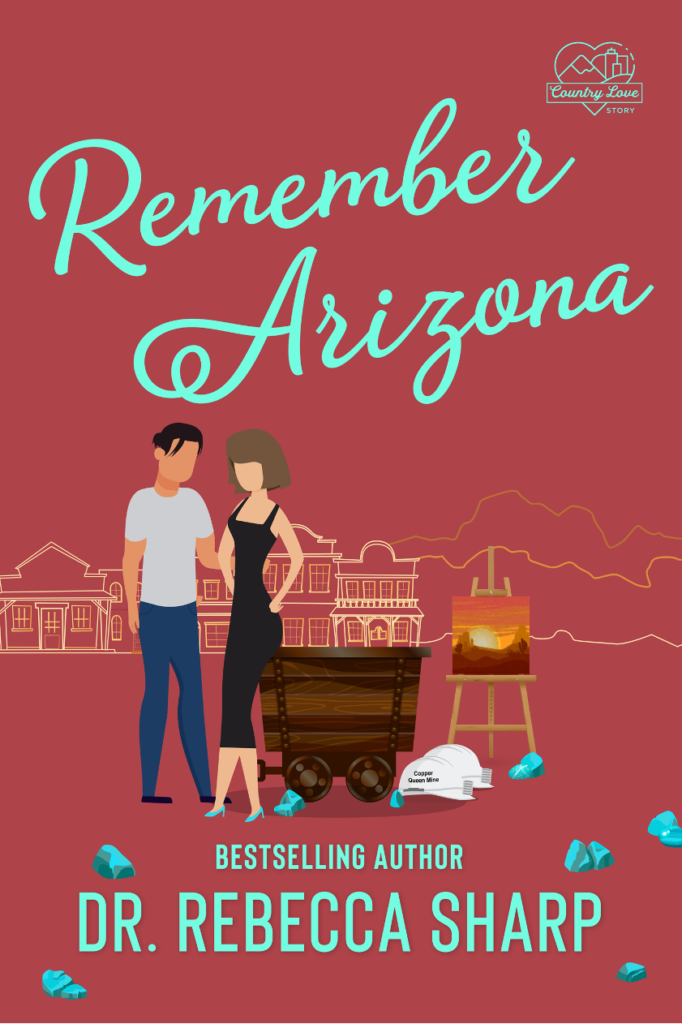 BOOK BLURB
Rule #1: Don't fall in love with your best friend.
Tally Kerr broke Rule #1 over a decade ago—a mistake that ended in the worst way possible.
Rule #2: Don't date an artist.
Tally recently broke Rule #2, and the artist broke up with her. The consequence? She's stuck curating a three-week exhibit for the jerk, and the only thing worse than dealing with him and his new girlfriend are the pity looks from the other artists.
So, she calls in a favor from her former best friend.
Sam Deschenes didn't expect to see Tally again. And he knows he's to blame. So when she says she's coming to town and needs his help, Sam can't say no—not even when she asks him to be her pretend boyfriend.
Tally wants nothing more than to forget Arizona, which is why this charade is critical. She'll replace all her memories with fake ones and prove she never really loved Sam.
As the days tick by, remembering Arizona—and all the reasons she fell for her best friend—come too easily. When their scorching desire incinerates the line between real and fake, will Tally keep up the act or will she break rule number one all over again?
PURCHASE LINKS
🌵Amazon Universal: mybook.to/RememberArizona
Apple Books / Nook / Kobo:
https://books2read.com/Remember-Arizona
🌵ADD to GR: http://bit.ly/RememberingArizona-GR
TEASER
ABOUT THE AUTHOR
Dr. Rebecca Sharp, while using a pen name, is actually a doctor living in Pennsylvania with her husband – the love of her life.
She enjoys working in her practice with her father as well as letting her creativity run free as an author. Growing up she's always loved a good love story and finally decided to give writing one of her own a go.
After graduating with her doctoral degree, she now enjoys spending that thing called free time traveling with her husband, cooking, and knitting.
AUTHOR LINKS
Facebook | Reader Group | Instagram | Twitter | Mailing List | Goodreads | Amazon | BookBub
Review
The way that Tally's relationship ended with her ex was bad enough but having to work with him and the woman he chose over her is adding insult to injury. She needs damage control and that comes in the form of the man who used to be her best friend until he broke her heart a decade earlier.
Sam regrets what transpired between him and Tally and believes this is the opportunity to make amends for the past. Neither expected that the chemistry and connection that had been lying dormant would return stronger than ever, but will this be their chance to right the wrongs of the past or are they headed for devastation once again?
Fun and flirty I enjoyed seeing them try to maneuver the parameters of their relationship as their story takes us on a journey filled with humor, heat and all the feels.