💙🦋HOT NEW RELEASE!💙🦋
BUTTERFLY by Nelle L' Amour is LIVE!
#1ClickHere
From Nelle L'Amour, a #1 Amazon All-Star Author and USA Today and New York Times bestseller, a new steamy and suspenseful age gap romance with a twist you won't see coming.
Sofi
When I was asked to interview Roman Hurst, I thought I was prepared.
But how could I be prepared for the gorgeous man awaiting me?
Nor was I prepared when he offered me a job. To be his muse.
And I definitely wasn't prepared to fall in love with him.
A man fifteen years my senior. Who is hiding a dark secret.
A secret so devastating, it could rip us apart.
No, I wasn't prepared for that at all.
Roman
I wasn't expecting this colorful breath of fresh air to fly into my life.
To wrench me from my dark cocoon.
Make me feel things I haven't felt in years.
Sofi Lockhart. My beautiful, feisty butterfly.
I'm going to catch her. Make her mine.
But there are predators out there who want to shatter her wings.
To tear us apart.
No, I wasn't expecting that at all.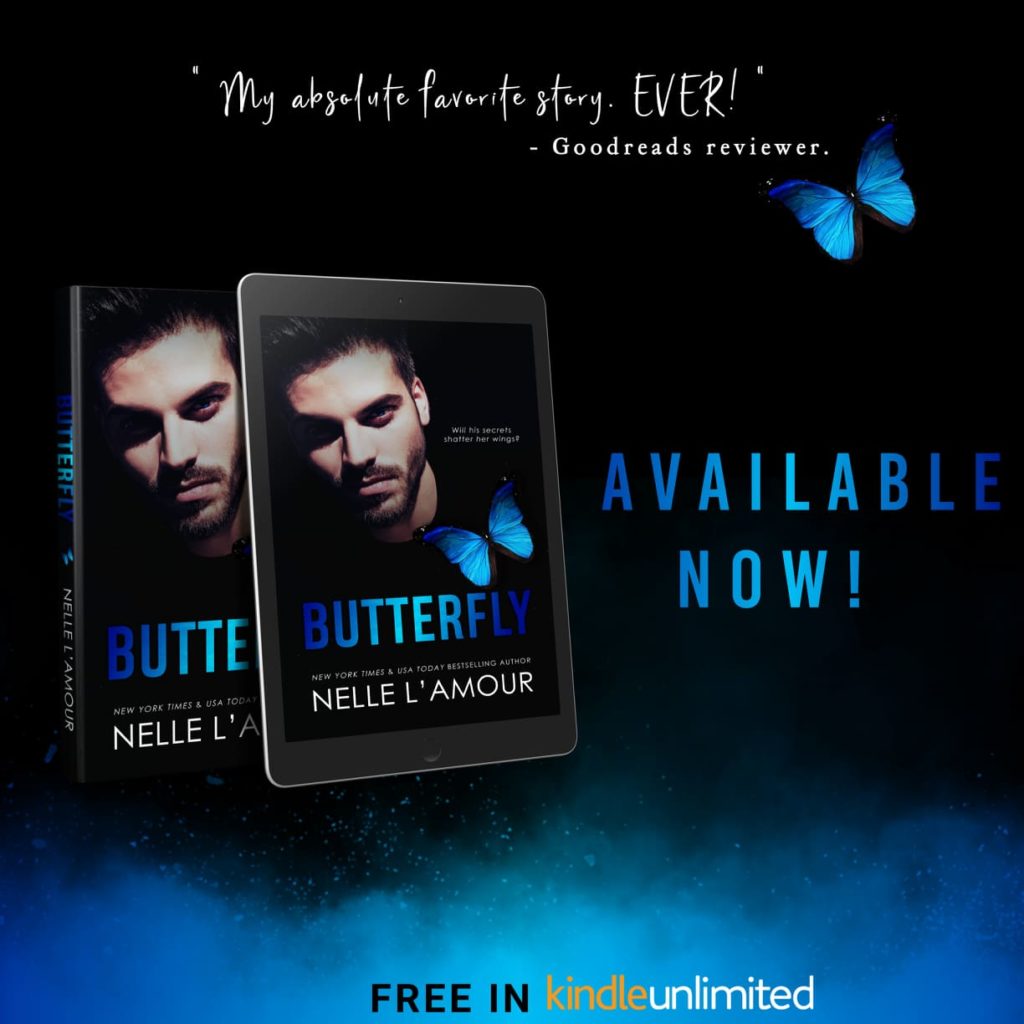 Review
Roman has finally agreed to give an interview however due to his need for privacy he has enforced strict parameters. When he meets Sofi, she not only enchants him, but she inspires him both personally as well as professionally when it comes to his fashion designs which is something he needs desperately at this time in his life.
A favor for a friend sends Sofi down a path that will change her life. She is drawn to Roman in a way she has never felt before, but it is what she doesn't know about him that is sure to bring complications to their tumultuous relationship.
Sofi is exactly who Roman needs in his life and even though their way to each other was filled with angst and obstacles there is no denying that their hearts belong to each other.
About the Author
Nelle L'Amour is a New York Times and USA Today bestselling author, who lives in Los Angeles with her Prince Charming-ish husband, beautiful twin princesses, and a bevy of royal pain-in-the-butt pets. A former executive in both the entertainment and toy industries with a prestigious Humanitas Prize for promoting human dignity and freedom to her credit, she gave up playing with Barbies a long time ago, but still enjoys playing with toys with her hubby. While she writes in her PJs, she loves to get dressed up and pretend she's Hollywood royalty. Her steamy stories feature characters that will make you laugh, cry, and swoon and stay in your heart forever.
FOLLOW NELLE ON SOCIAL MEDIA
Website: http://www.nellelamour.com
Newsletter: nellelamour.com/newsletter
Facebook Reader Group: https://www.facebook.com/groups/1943750875863015
Instagram: https://www.instagram.com/nellelamourauthor/
Amazon: amazon.com/Nelle-LAmour/e/B00ATHR0LQ
BookBub: https://www.bookbub.com/authors/nelle-l-amour
Twitter: https://twitter.com/nellelamour1
TikTok: https://www.tiktok.com/@nellelamour?lang=en
Email: nellelamour@gmail.com