⚾❣️ 𝗛𝗢𝗧 𝗡𝗘𝗪 𝗥𝗘𝗟𝗘𝗔𝗦𝗘❣️ ⚾
𝗪𝗶𝗹𝗱 𝗖𝗮𝗿𝗱 𝗯𝘆 𝗔𝘀𝗵𝗹𝗲𝘆 𝗠𝘂𝗻𝗼𝘇 𝗶𝘀 𝗟𝗜𝗩𝗘! 𝗗𝗼𝗻'𝘁 𝗺𝗶𝘀𝘀 𝘁𝗵𝗶𝘀 𝗰𝗼𝗹𝗹𝗲𝗴𝗲 𝘀𝗽𝗼𝗿𝘁𝘀 𝗰𝗼𝗻𝘁𝗲𝗺𝗽𝗼𝗿𝗮𝗿𝘆 𝗿𝗼𝗺𝗮𝗻𝗰𝗲!
#𝟭-𝗰𝗹𝗶𝗰𝗸 𝘁𝗼𝗱𝗮𝘆!
BLURB
This was it…I could see it in my editor's eyes.
This was the last straw. One more misstep and I was going to lose my coveted internship.
I decided right there in my room, lime-flavored tortilla chips in hand, that I would do whatever it
took to write the story of the century.
And I had my target in sight—the undefeated Devil's baseball team. They were RFU royalty,
and completely untouchable.
Their parties were impossible to get into unless you were handpicked, and I was not.
Even still, I had a solid plan.
I would not get caught, definitely not seduced, and absolutely wouldn't die. That is until I was
stopped and rendered totally speechless by a pair of mossy eyes.
He lured me in, close enough to feel the press of his mouth against my skin and the heat of his
hands on my body. Undoubtedly, I was a sheep headed straight for the slaughter, which only
proved true when he called my bluff.
With him holding all the cards for my future success, and in order to salvage what remained of
my dream, I did the only thing I could.
I made a deal with a devil.
Add to your Goodreads TBR: http://bit.ly/WC-GR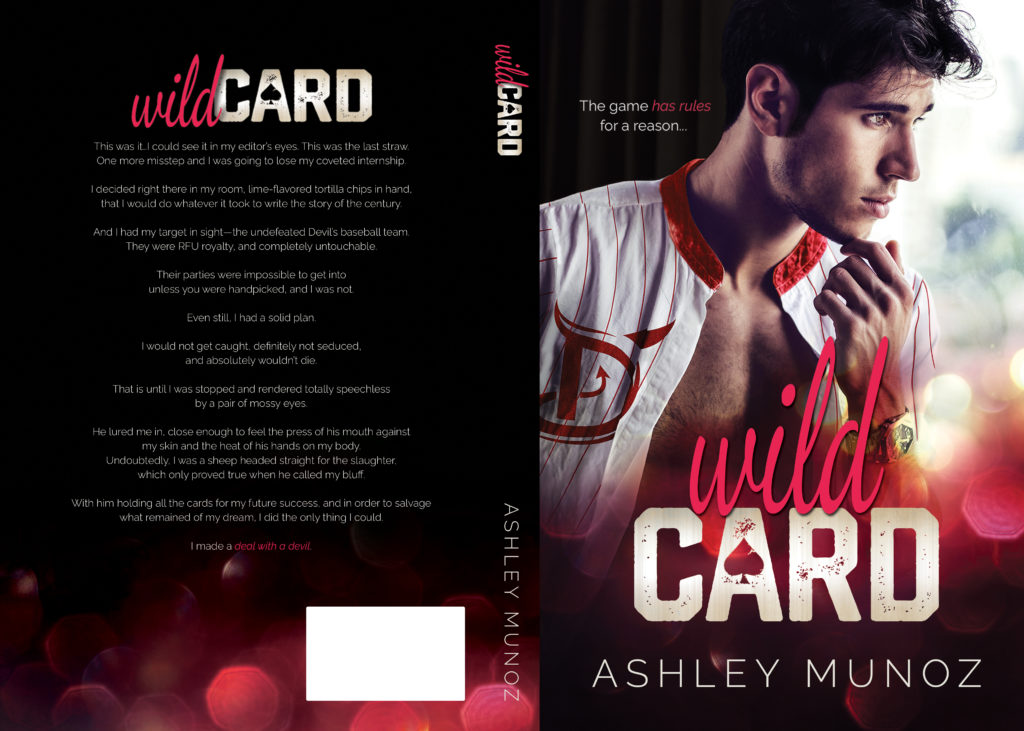 PURCHASE LINKS
Amazon Universal: mybook.to/WildCardAM
Review
Mallory's attentions are firmly focused on her future so when she is in danger of losing the internship she wanted it seemed fate wanted to give her a helping hand. She not only finds out about a unique card game the baseball team partakes in, but she found a way to crash it as well however Decker was a surprise she didn't see coming.
Decker is a man with many secrets who is determined to complete the plan he put in motion and hadn't given much thought to who could become collateral damage until Mallory managed to break through the walls he has built around himself. They both need something from the other however neither expected to develop feelings for the other and that is when the complications truly begin.
The characters draw you and their relationship keeps you on edge as only they can determine if what they share is strong enough to overcome not only what brought them together but what has transpired since as well.
ABOUT THE AUTHOR
Ashley was born in Nebraska, but raised in Oregon where she lives with her four children and husband.
If she's not helping her husband with DIY projects around the house, she's writing or sneaking off to a corner to read.
AUTHOR LINKS
FB Author Page | ReaderGroup | Instagram | BB | GR | AMZ Author Page | Newsletter Sign up | TikTok