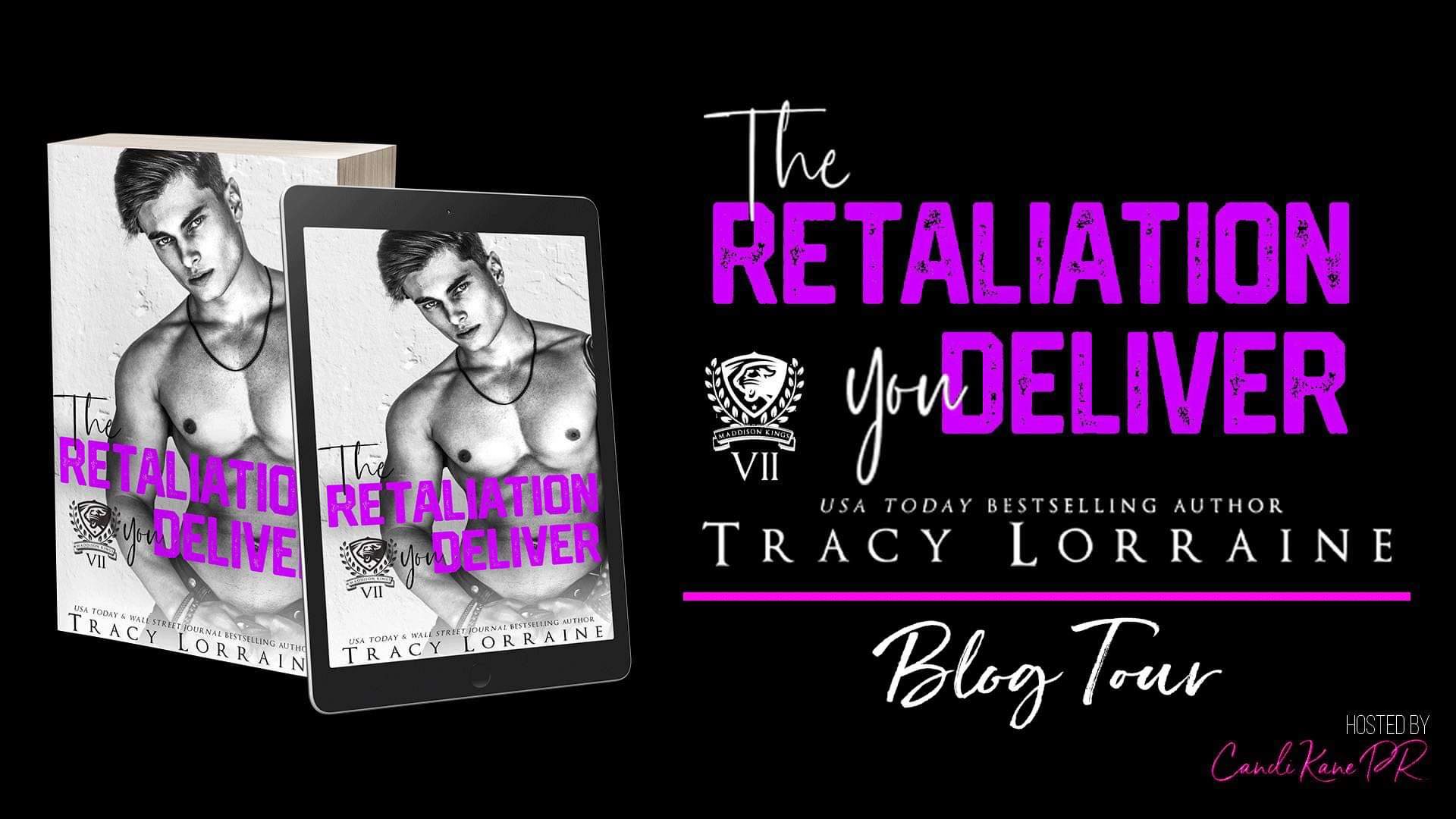 THE RETALIATION YOU DELIVER (Maddison Kings University #7) by Tracy Lorraine
Release Date: September 2nd
Add to Goodreads:
https://www.goodreads.com/book/show/58651465-the-retaliation-you-deliver
AVAILABLE NOW!!! FREE IN KU!
Start Leon's duet with The Devastation You Reap!!
Blurb:
When something seems too good to be true. It's usually because it is.
A lesson I learned the hard way.
Every single fear I had about falling for Leon, has just come true in the most brutal way.
The sweet guy act he's been putting on the past few weeks is over.
The cold, hard truth is… he never wanted me. He only wanted retaliation.
And like a fool, I played right into his wicked scheme.
But I'm not the monster he thinks I am.
Ten years ago, I might have discovered the horrifying truth, but I did the only thing I could. I pushed it down and tried to forget. Tried to survive. Afraid of what might happen at the hands of the monster who ruined both our lives.
But now the truth is out, and the secret Leon has been keeping for a decade is about to poison those he loves, sending him into a darker place than he's ever been.
Healing isn't always easy, it's messy and painful.
The question is, beneath all the hate, will I rediscover the man I fell for, or was he always a fantasy?
Dear Reader,
The Retaliation You Deliver is the conclusion to Macie and Leon's duet and the final book in the Maddison Kings University. It's a dark bully romance that contains mature content and demanding alphaholes that some readers may find disturbing. You have been warned.
THE MADDISON KINGS UNIVERSITY SERIES IS NOW COMPLETE!!!
Go back to where it all began with Kane and Letty!
The Mistakes You Make, 𝗙𝗥𝗘𝗘 𝗣𝗥𝗘𝗤𝗨𝗘𝗟: mybook.to/TMYM
The Revenge You Seek #1:
The Deception You Weave #2 : mybook.to/TDYW
The Betrayal You Serve #𝟯: http://mybook.to/TBYS
About the Author:
Tracy Lorraine is a new adult and contemporary romance author.
Tracy has recently-ish turned thirty and lives in a cute Cotswold village in England with her husband, baby girl and lovable but slightly crazy dog. Having always been a bookaholic with her head stuck in her Kindle Tracy decided to try her hand at a story idea she dreamt up and hasn't looked back since.
Connect w/Tracy:
Website: https://tracylorraine.com
Facebook: https://facebook.com/tracylorraineauthor
Twitter: https://twitter.com/tracy_l_author
Instagram: https://instagram.com/tracy_lorraine_author
Goodreads: https://www.goodreads.com/author/show/14879450.Tracy_Lorraine
Bookbub: https://www.bookbub.com/authors/tracy-lorraine
Amazon: https://amzn.to/36qmSBJ
NL Signup: https://tracylorraine.com/newsletter
Review
With the truth being revealed about his real agenda when it came to Macy it leaves them both reeling. One part of Macy feels betrayed, but the other part feels for the pain that Leon must have felt to resort to such measures, and she wants to help him heal even if she must bear the brunt of his pain.
Leon thought that wreaking his vengeance on Macy would take away the pain he was feeling but his struggle is far from over. We get the real Leon which is the man who bears the emotional scars of the past rather than façade he presents where he pretends that he is happy, and we see that he has never felt more alone.
Macy and Leon take us on an emotional journey as they must not only deal with the pain from the past but the pain in the present. Although their relationship started under the worst of circumstances, they proved that they are much stronger together than apart.