KINGDOM FALL by A. Zavarelli
Release Date: November 9th
Genres/Tropes: Dark Mafia Romance
Kingdom Fall is part of the Underworld Kings Universe. A multi-author series of standalone books filled with mafia families waging war, danger and violence, arranged and forced marriages, angst, love, and everything in-between.
Light or dark, twisted or sweet, the Underworld Kings has something for every reader.
AVAILABLE NOW!! FREE IN KU!!
Amazon US: https://amzn.to/3077n1K
Amazon UK: https://amzn.to/31FTWq1
Amazon CA: https://amzn.to/3wqdPwy
Amazon AU: https://amzn.to/3mRQalj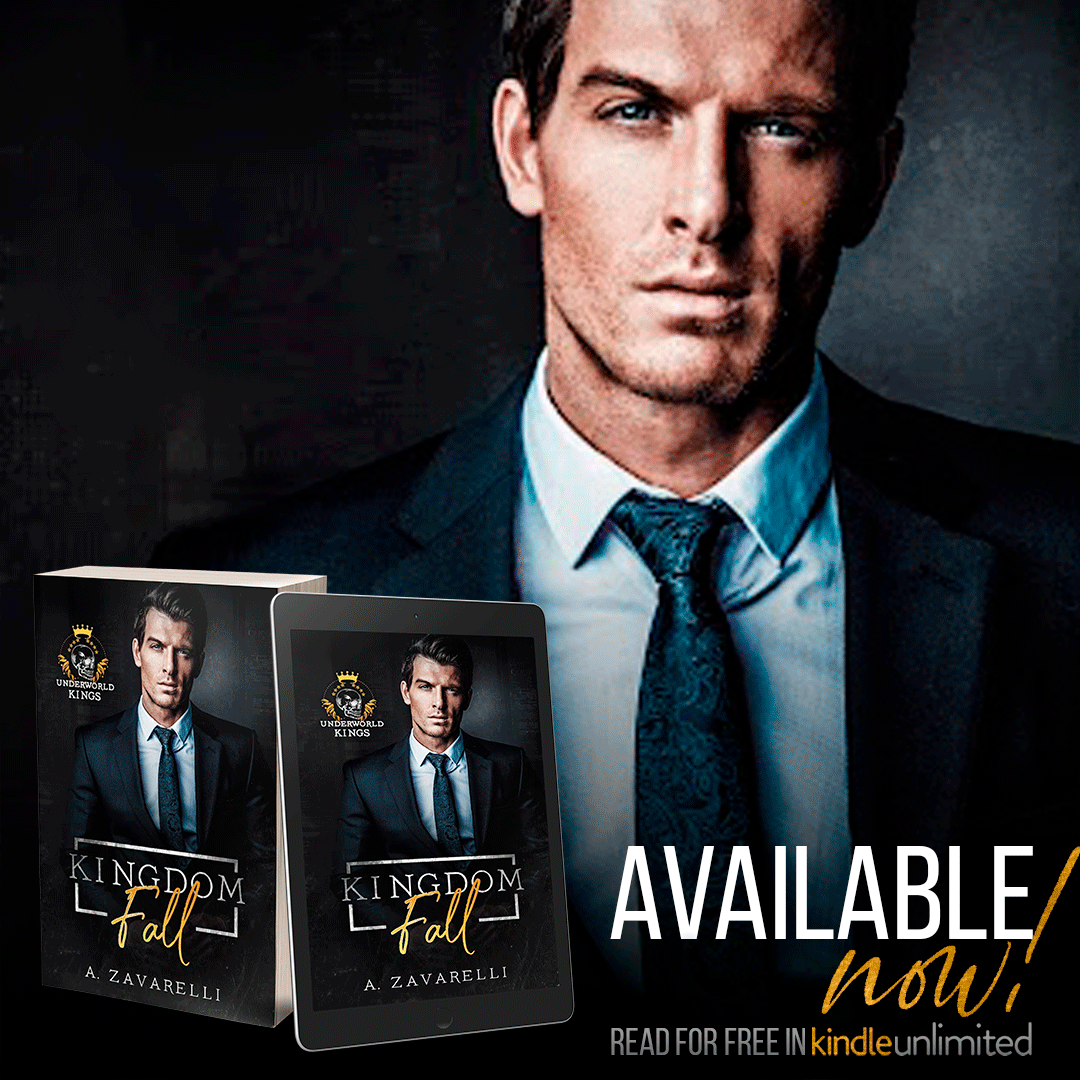 Add to Goodreads:
https://www.goodreads.com/book/show/58572211-kingdom-fall
Blurb:
I was a nanny in need of a job.
He was darkness personified.
I had little to call my own.
He was filthy rich, powerful, and dangerous.
The assignment was simple, and my goal was too.
Take care of his son. Keep my head down. When he least expects it, destroy him.
It should have been easy. I thought it would be until I looked into his stark blue eyes.
Kissing the enemy is a bad idea, but so is falling in love with him.
He doesn't know my crumbling foundation is built on lies.
When he discovers the truth, I'll find out if he's as brutal as I believe.
I came here to steal his life.
I didn't count on him stealing my heart.
About A. Zavarelli:
A. Zavarelli is a USA Today and Amazon bestselling author of dark and contemporary romance.
When she's not putting her characters through hell, she can usually be found watching bizarre and twisted documentaries in the name of research.
She currently lives in the Northwest with her lumberjack and an entire brood of fur babies.
Connect w/A. Zavarelli:
Facebook: https://www.facebook.com/azavarelliauthor/
Facebook Group: https://www.facebook.com/groups/943497375705372/
Instagram: https://www.instagram.com/azavarelli/
Twitter:https://twitter.com/AZavarellibooks
Mailing List: https://landing.mailerlite.com/webforms/landing/b7o9l3
Website: https://www.azavarelli.com
Goodreads:https://www.goodreads.com/author/show/13549895.A_Zavarelli
Amazon:https://www.amazon.com/A-Zavarelli/e/B00U2562W8
Bookbub: https://www.bookbub.com/profile/a-zavarelli
Check out more information on the books and authors coming this fall HERE—> https://under-world-kings.com
Keep up-to-date with all things Underworld Kings in the Reader Group HERE—> https://bit.ly/3ArB5vx
💛Review💛
Alessio is not a good man and his job as the Debt Collector has only made him colder and more withdrawn. He doesn't allow many people close as they not only become a liability, but they are weapons that can be used against you however the one exception is his son. He needs a new nanny and Natalia appears to be the perfect choice, but he is about to find out that he doesn't really know her at all.

Natalia may have been hired as a nanny but that is not why she is there. She is determined to get the answers she needs with no thought of the consequences that it might bring down on her. She has endured so much already, and she isn't about to back down from anyone or anything but Alessio is fast becoming a puzzle she needs to solve.

Both are trying to keep their true selves hidden from the other however that is fast becoming a battle that neither is winning. The suspense keeps you on edge, the surprises keep coming and the storyline and the characters will entertain you from beginning to end.