🖤💀 𝗛𝗢𝗧 𝗡𝗘𝗪 𝗥𝗘𝗟𝗘𝗔𝗦𝗘 💀 🖤
𝗠𝗲𝗿𝗰𝗶𝗹𝗲𝘀𝘀 𝗞𝗶𝗻𝗴𝘀, 𝗕𝗼𝗼𝗸 𝟭 𝗶𝗻 𝘁𝗵𝗲 𝗕𝗼𝗻𝗲𝘆𝗮𝗿𝗱 𝗞𝗶𝗻𝗴𝘀 𝘁𝗿𝗶𝗹𝗼𝗴𝘆 𝗳𝗿𝗼𝗺 𝗪𝗮𝗹𝗹𝘀𝘁𝗿𝗲𝗲𝘁 𝗝𝗼𝘂𝗿𝗻𝗮𝗹 𝗮𝗻𝗱 𝗨𝗦𝗔 𝗧𝗼𝗱𝗮𝘆 𝗯𝗲𝘀𝘁𝘀𝗲𝗹𝗹𝗶𝗻𝗴 𝗮𝘂𝘁𝗵𝗼𝗿 𝗕𝗲𝗰𝗰𝗮 𝗦𝘁𝗲𝗲𝗹𝗲 𝗮𝗻𝗱 𝗮𝘂𝘁𝗵𝗼𝗿 𝗖. 𝗟𝘆𝗺𝗮𝗿𝗶 𝗶𝘀 𝗟𝗜𝗩𝗘!! 𝗗𝗼𝗻'𝘁 𝗺𝗶𝘀𝘀 𝘁𝗵𝗶𝘀 𝗱𝗮𝗿𝗸 𝗰𝗼𝗹𝗹𝗲𝗴𝗲 𝗲𝗻𝗲𝗺𝗶𝗲𝘀 𝘁𝗼 𝗹𝗼𝘃𝗲𝗿𝘀/𝗯𝘂𝗹𝗹𝘆 𝗿𝗲𝘃𝗲𝗿𝘀𝗲 𝗵𝗮𝗿𝗲𝗺 𝗿𝗼𝗺𝗮𝗻𝗰𝗲!
#𝟭-𝗰𝗹𝗶𝗰𝗸 𝘁𝗼𝗱𝗮𝘆!
BOOK BLURB
They say bad things happen in threes.
The first was when I lost my parents.
The second came when I had to leave behind everything I knew to move across the world to live with my only remaining relative.
But what was life for, if not for living? So I kept moving.
Then the third thing happened, just as I was about to begin my junior year at the prestigious Blackstone University.
I caught the eye of not one, not two, but three of the most infamous guys on campus. The three guys from the wrong side of the tracks.
Saint, Mateo, and Callum.
And now that they have me in their sights, I know that there's nowhere I can hide.
There's no escape from the Boneyard Kings.
Merciless Kings is a reverse harem romance with enemies to lovers and bullying themes. This is book one in the Boneyard Kings series, and cannot be read as a standalone.
PURCHASE LINK
🖤💀 Amazon Universal: http://mybook.to/boneyardkings1
🖤💀 TBR: https://bit.ly/MercilessKings-GR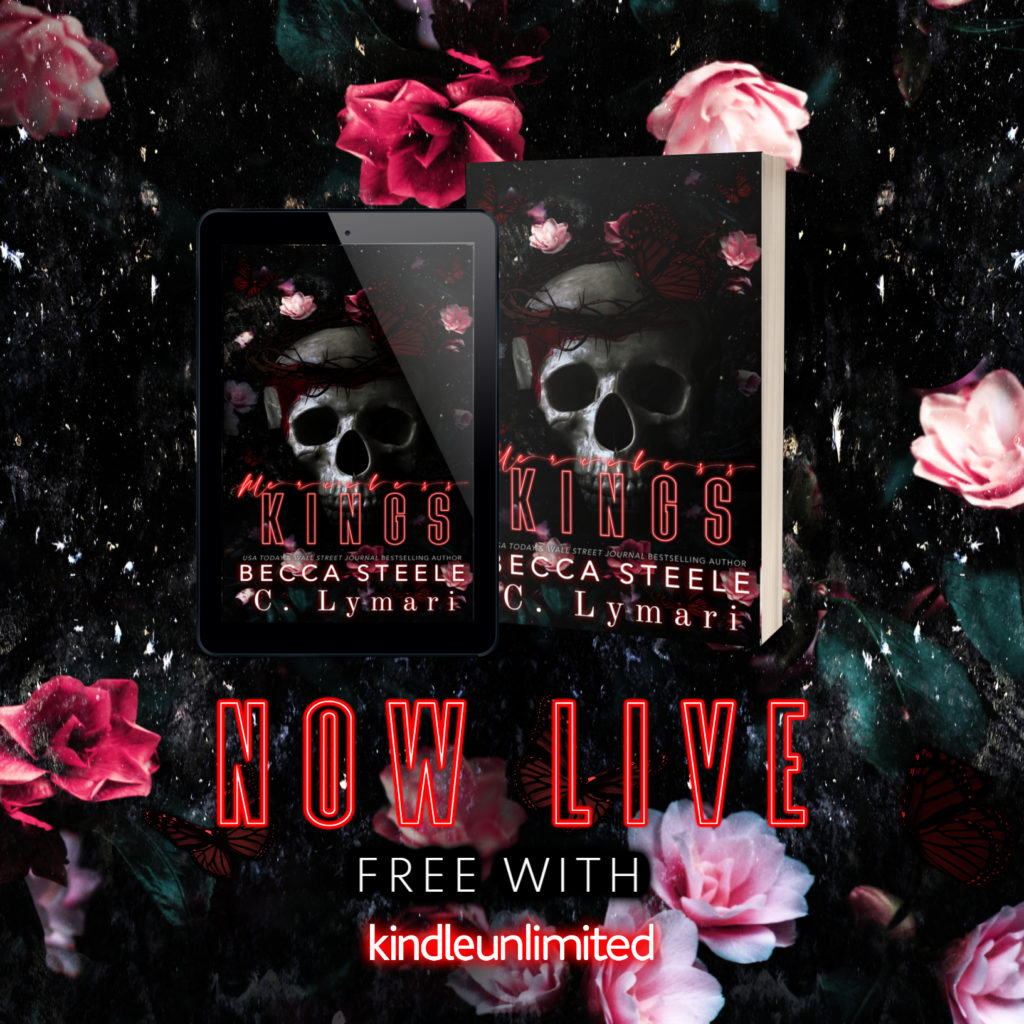 After the death of her parent's life as Everly knew it was uprooted when she finds herself living with her uncle and attending Blackstone University. All she wants is to keep a low profile as she adjusts to her situation however that proves to be impossible when she attracts the attention of the Boneyard Kings.
Saint, Mateo and Callum are three men whose only loyalty is to each other. Their lifestyles couldn't be more different from Everly but what starts as a plan to get what they need from her and then discard her takes a turn when they realize there is much more to her than they thought.
With everything we learn about the captivating the more we want to know as they take us a riveting journey filled with emotions, secrets and surprises that leave us wanting more of them and their stories.
ABOUT BECCA STEELE
Becca Steele is a USA Today and Wall Street Journal bestselling author of M/F and M/M romance. She currently lives in the south of England with her husband, two kids, and a whole horde of characters that reside inside her head.
When she's not writing, you can find her reading or watching Netflix, usually with a glass of wine in hand. Failing that, she'll be online hunting for memes, or wasting time making her 500th Spotify playlist.
BECCA STEELE LINKS
Facebook | Becca's Book Bar | Instagram | Newsletter | BookBub | Amazon | TikTok
ABOUT C. LYMARI
Claudia lives in the Chicagoland suburbs, and when she's not busy chasing after her adorable little spawn, she's fighting with the characters in her head. After not being able to keep up with them, she decided enough was enough and wrote her first novel. C. Lymari writes both sweet and dark romances that will give you all the feels. Her other talents include binge-watching shows on Netflix and eating all kinds of chips.
C. LYMARI LINKS
Facebook | Facebook Group | Instagram| Goodreads | BookBub | Amazon | TikTok | Newsletter