🔥🔥HOT NEW RELEASE🔥🔥
SINCERELY, THE PUCK BUNNY by Maren Moore is LIVE!
#1ClickHere:
Spoiler alert…
Briggs Wilson, the NHL's most notorious bad boy isn't actually who everyone thinks he is.
He's kind, compassionate, loyal.
And plot twist?
The best baby daddy ever.
Yep, you read that right.
One weekend.. One mind blowing weekend that ended with me having a baby with someone I barely knew.
We had a plan.
Co-parent, raise our daughter and put her first. Always.
Too bad I never considered actually falling for my charming baby daddy.
Even better?
He wanted our family, more than anything.
The problem?
I have a secret.
One that could destroy everything.
Sincerely,
The Puck Bunny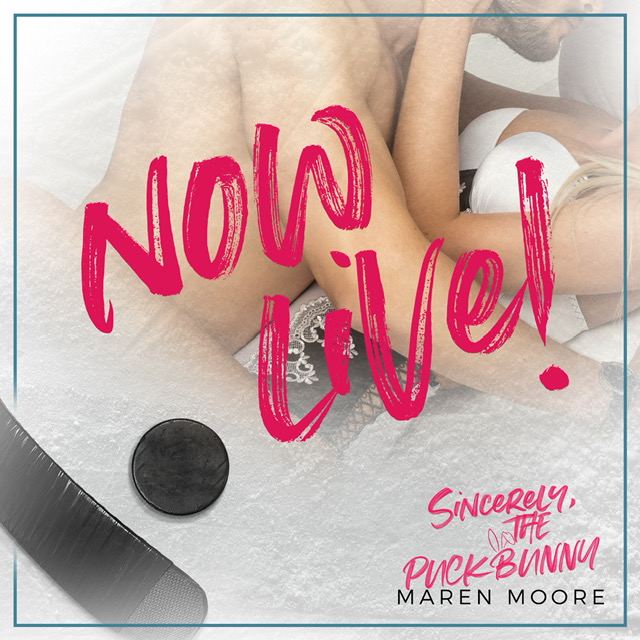 Briggs may be a successful hockey player but the same can't be said when it comes to his personal relationships or the media attention he garners. He is trying to leave his less than stellar past where it belongs, and it starts with a weekend away from his regular life, but Maddison was a surprise he didn't see coming.
When Maddison meets Briggs, she realizes that there is a lot more to the man than his reputation and they spend a weekend together that neither will be able to forget. Fate brings them together nine months later and when Briggs realizes he is about to be a father there is nothing he won't do to claim both his girls, but Maddison has a secret that could change everything.
The characters of Maddison and Briggs draw you in and I enjoyed seeing their romance unfold even though you were on edge waiting to see how it all would play out and let's not forget about the supporting characters who you can't help but love as well.