DROP DEAD QUEEN (Corium University Trilogy #2) by JL. Beck and C. Hallman
Release Date: January 7th
Genre/Tropes: Dark Romance/Bully/Enemies to Lovers/Revenge Romance/Dub-Con-Non-Con
AVAILABLE NOW!!! FREE IN KU!!!
START THE TRILOGY WITH #1, KING OF CORIUM!
Add to Goodreads:
https://www.goodreads.com/book/show/59449827
Blurb:
In the darkness they lurk, waiting for the perfect moment to strike.
Danger is everywhere, and not even Quinton can protect me.
Someone wants me dead and they'll do anything to achieve their goal.
I'm back to being a rat scurrying through the halls of Corium and I know it won't be long till I'm caught in a trap.
The only question is, can I save myself this time?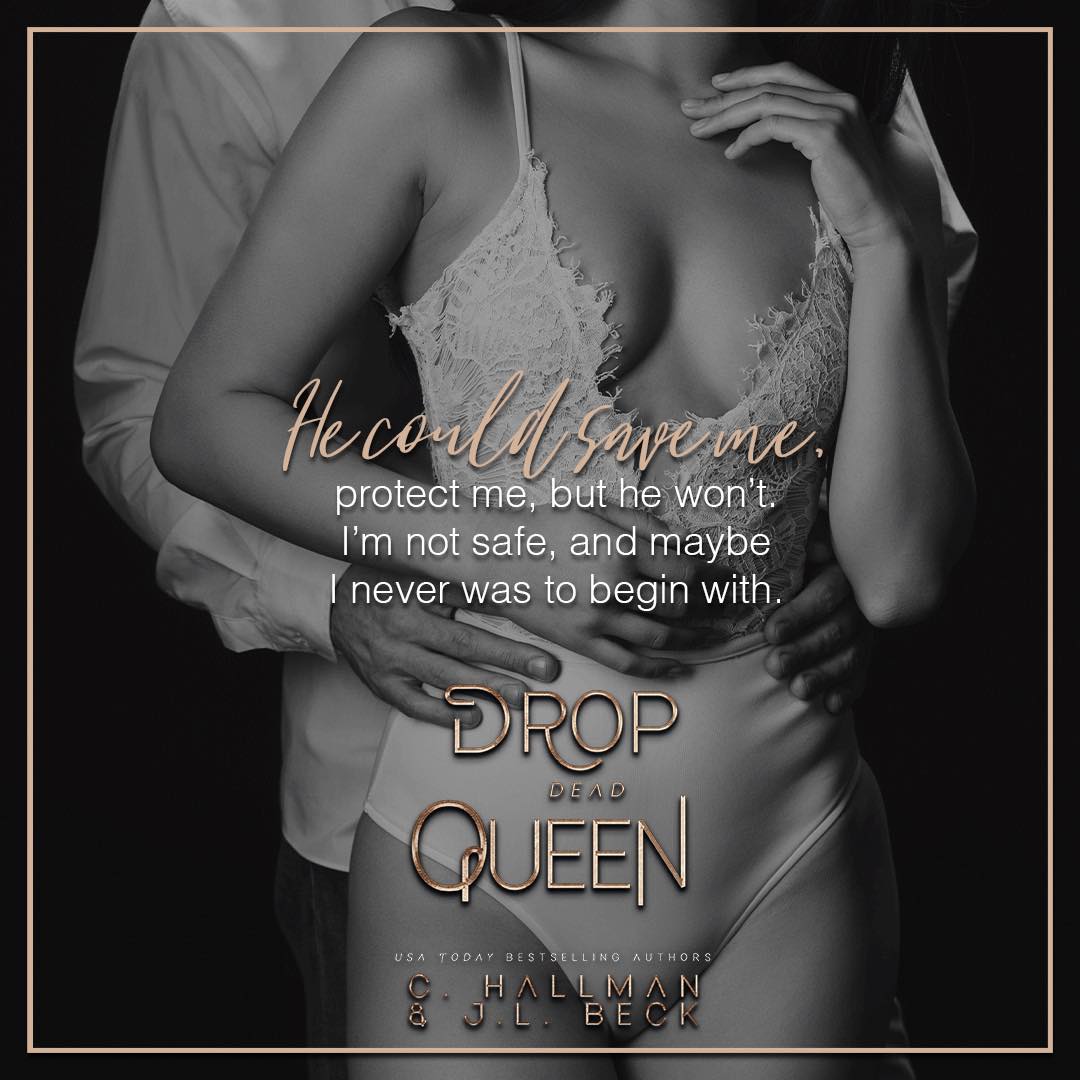 After narrowly escaping a threat against her life Aspen returns to Corium but the threat is far from over. As she recovers she begins to see another side of Quinton however through no fault of her own she is still the most hated person in the school and the bullying against her continues to escalate. What appears to be a reprieve turns into a traumatic experience she may never recover from.
Quinton is torn before the emotional feelings he has for Aspen and the rage over her family's actions for which he holds her responsible. He is dealing with his own family drama as well which means he isn't there when Aspen needs someone the most and the fallout from that is sure to be extreme.
The characters of Aspen and Quinton draw you in as they take us on steamy and suspenseful ride that accelerates into a cliffhanger which leaves us wondering how they will overcome the events that have happened.
About JL Beck:
J.L. Beck loves good books, wine, and coffee. She's a lover of words and when she isn't writing you can find her working on her newest book baby. She started her publishing journey back in 2014 and hasn't stopped writing since. Living in Wisconsin with her husband, two kiddos, and dogs she wouldn't trade them for anything. Well, maybe…
Connect with JL Beck:
Facebook: https://www.facebook.com/AuthorJLBeck/
Instagram: https://www.instagram.com/authorjlbeck/
Amazon: http://amzn.to/2srbge9
Bookbub: http://bit.ly/2tOVZl8
Goodreads: https://www.goodreads.com/author/show/8425041.J_L_Beck
Bleeding Heart Book Club Group: http://bit.ly/2sWljZG
Beck and Hallman Facebook Page: https://www.facebook.com/beckandhallman
Subscribe to Beck & Hallman's Newsletter: https://mailchi.mp/c588f427a88d/newslettersignup
About C. Hallman:
Born and raised in Germany, C. Hallman moved to the United States when she was eighteen. She's now a stay-at-home-mom to three boys, and happily married to her husband of 13 years. With a love for reading, that love slowly transpired into writing she put fingers to the keyboard and started writing about the dark side of romance.
Connect with C. Hallman:
Facebook: https://www.facebook.com/CassandraHallman
Instagram: https://www.instagram.com/cassandra_hallman/
Bookbub: https://www.bookbub.com/profile/cassandra-hallman
Twitter: https://twitter.com/CassyHallman
Goodreads: https://www.goodreads.com/author/show/18210189.Cassandra_Hallman
Amazon: https://amzn.to/2QfhMzu
Bleeding Heart Book Club Group: http://bit.ly/2sWljZG
Beck and Hallman Facebook Page: https://www.facebook.com/beckandhallman
Subscribe to Beck & Hallman's Newsletter: https://mailchi.mp/c588f427a88d/newslettersignup