WORSE THAN ENEMIES by JL. Beck
Release Date: May 27th
Genre/Tropes:
Dark Romance/Bully Romance
Standalone
AVAILABLE NOW!!! FREE IN KU!!!
https://geni.us/worsethanemeies
Add to Goodreads:
https://www.goodreads.com/book/show/60569695-worse-than-enemies
Blurb:
The first time we met, it was an accident.
The second was the night my mother told me she was marrying his father.
I didn't know his name then, but I do now.
Hayes Ambrose.
Captain of the swim team.
Popular, gorgeous, the guy every girl wants, with a smile that's hiding a million secrets.
In the beginning I was certain we would become fast friends, until the day I heard a conversation that I was never supposed to hear.
Overnight he became my worst nightmare, my bully.
He'll do anything to keep me quiet, and I'll do anything to discover the truth.
Until the truth is revealed and I realize it's far more terrifying than I ever expected.
**This is a full length stand-alone dark romance novel, containing scenes that are not suitable for all readers.**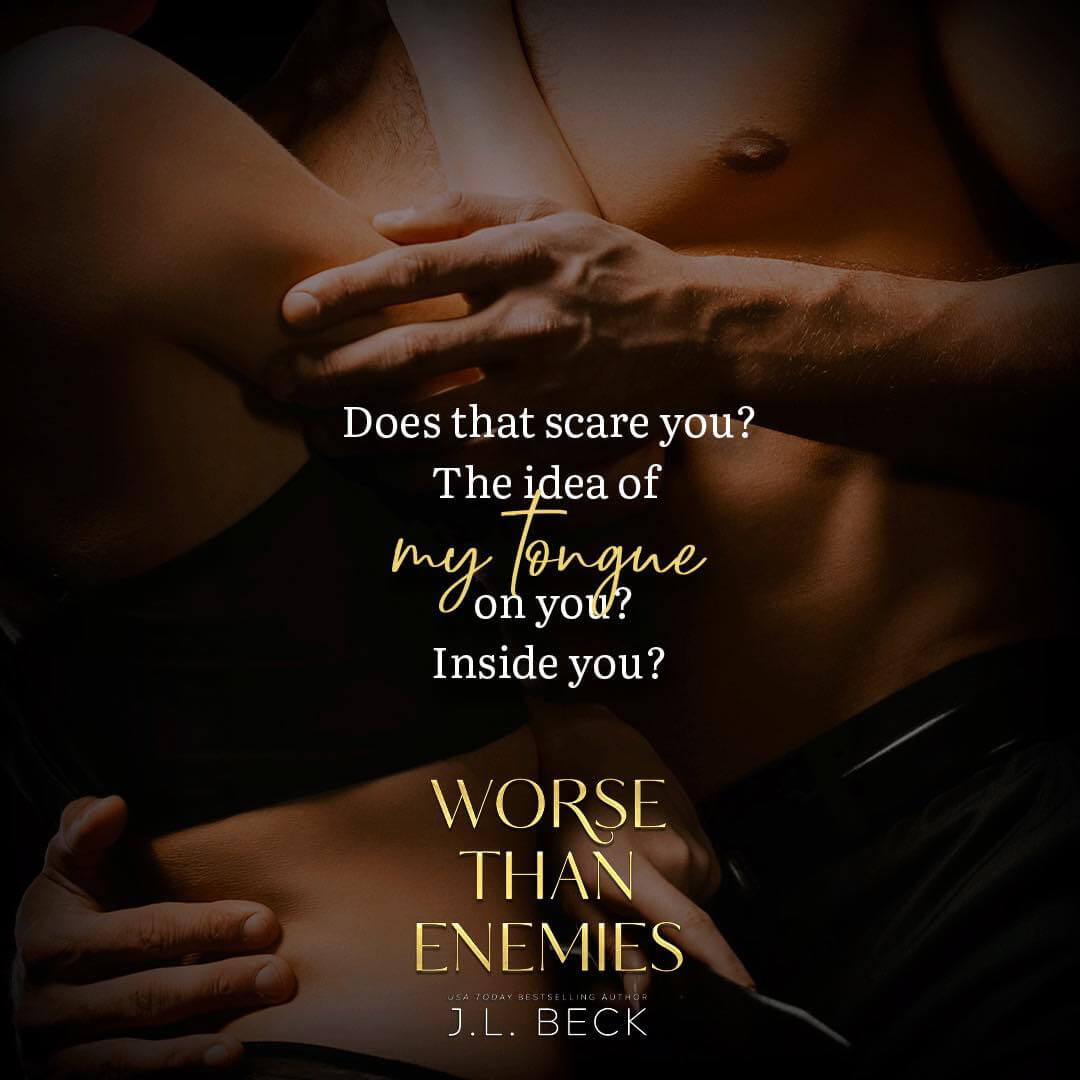 About JL Beck:
J.L. Beck loves good books, wine, and coffee. She's a lover of words and when she isn't writing you can find her working on her newest book baby. She started her publishing journey back in 2014 and hasn't stopped writing since. Living in Wisconsin with her husband, two kiddos, and dogs she wouldn't trade them for anything. Well, maybe…
Connect with JL Beck:
Facebook: https://www.facebook.com/AuthorJLBeck/
Instagram: https://www.instagram.com/authorjlbeck/
Amazon: http://amzn.to/2srbge9
Bookbub: http://bit.ly/2tOVZl8
Goodreads: https://www.goodreads.com/author/show/8425041.J_L_Beck
Bleeding Heart Book Club Group: http://bit.ly/2sWljZG
💛Review💛
Due to her mother's inability to be the mother she and her four-year-old sister need her to be Morgan has had to take on that responsibility rather than being a carefree teenager. One of the rare moments that she is alone she comes across a stranger and sees a side of him that he never wanted anyone to see.
Hayes is appearing to be living the dream as he is a star athlete and is powerful in school due to his popularity. When the woman who sees him at a vulnerable moment is about to become his stepsister due to their parent's relationship, he is determined to inflict on her the same pain he is feeling both at home and school.
Hayes has painful secrets he wants to keep that way which leads to him tormenting Morgan however her heart and her need to help him won't let him walk away which takes us on a gritty and emotional journey.