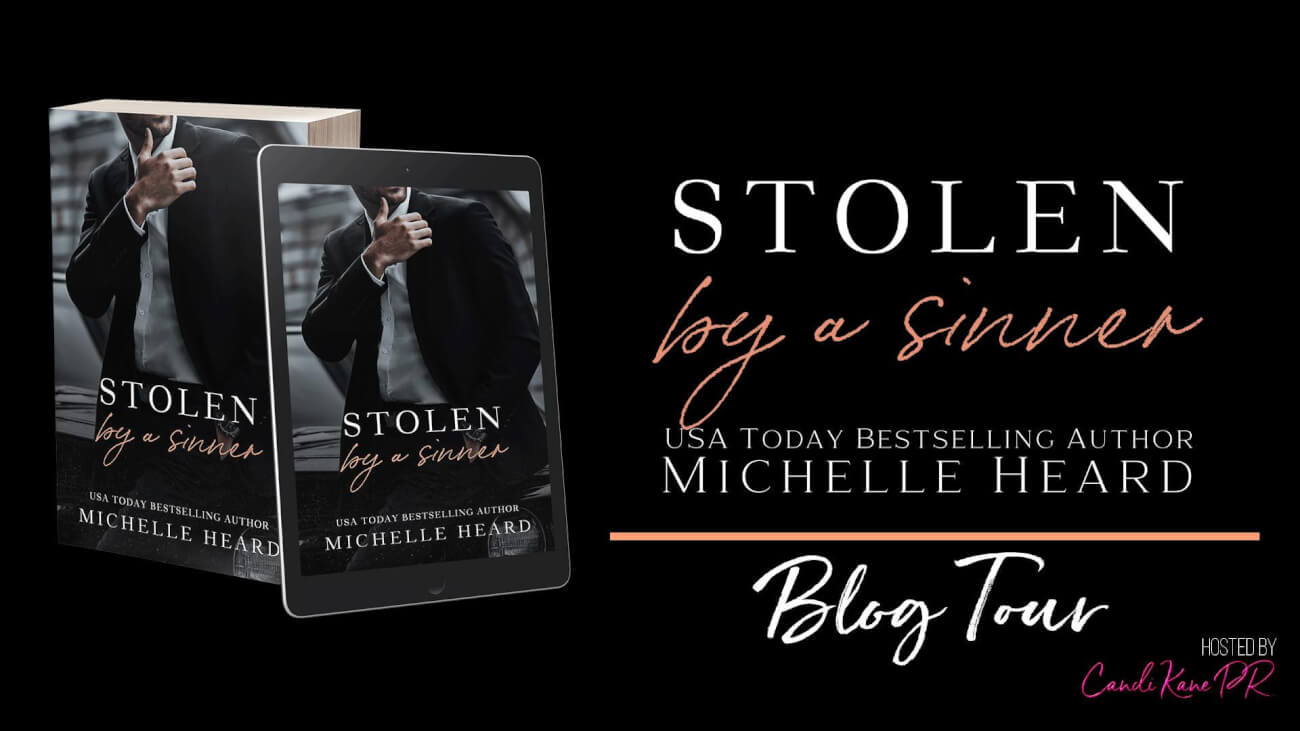 STOLEN BY A SINNER by Michelle Heard
Release Date: June 20th
Genre/Tropes: A Turkish Mafia Romance
Age Gap / Captive Romance / Enemies To Lovers / Standalone / HEA
AVAILABLE NOW!!!
US: https://www.amazon.com/dp/B09Z38YYJ7
UK: https://www.amazon.co.uk/dp/B09Z38YYJ7
AU: https://www.amazon.com.au/dp/B09Z38YYJ7
CA: https://www.amazon.ca/dp/B09Z38YYJ7
Add to Goodreads:
https://www.goodreads.com/book/show/59740340-stolen-by-a-sinner
Blurb:
Cinderella said to be kind, have courage, and always believe in a little magic.
She's wrong.
To survive in my world, you have to be dead inside, be on guard at all times, and never dream of the impossible.
You never dream of anything because you don't just get to stop working for the Polish mafia.
But you can be stolen from them.
Well, kind of.
When Gabriel Demir, head of the Turkish mafia, attacks my boss, I'm caught in the crossfire.
I'm taken captive, interrogated, and soon find myself in the position of maid again. Only this time, it's for the Turkish instead of Polish.
This time it's for a dangerously attractive man and not the insane one I've known all my life.
This time I find myself fantasizing about my boss instead of dreaming of ways to escape.
This time I'm not threatened with pain and death but with pleasure.
But can I step out of the maid's uniform and into a
ballgown?
Do I dare cross that line just for a moment in the
spotlight?
About the Author:
Michelle Heard is a Wall Street Journal, and USA Today Bestselling Author who loves creating stories her readers can get lost in. She resides in South Africa with her son where she's always planning her next book to write, and trip to take.
Connect w/Michelle:
Website: https://michelleheardauthor.wordpress.com
Facebook: https://www.facebook.com/MHeardAuthor
FB Readers Group: https://www.facebook.com/groups/118971435201074
Instagram: https://www.instagram.com/authormichelleheard
Twitter: https://twitter.com/MichelleAHorst
Amazon: https://amazon.com/author/michellehorst
Goodreads: https://www.goodreads.com/author/show/18108320.Michelle_Heard
BookBub: https://www.bookbub.com/authors/michelle-heard
TikTok: https://vm.tiktok.com/ZTd5K2HcN/
Newsletter Signup: https://preview.mailerlite.com/webforms/landing/p6m4o4
🧡Review🧡
As a maid in the home of the leader of the Polish Mafia Lara has known nothing but fear and abuse as any mistake would be punished with the ultimate punishment being death. When the house is attacked she gets caught in the crossfire so when she is taken she is fearful that she is just going from a dangerous situation that she is familiar with to a more dangerous situation that she is unfamiliar with.
Gabriel is the leader of the Turkish Mafia who has been planning for the perfect time to strike against his enemy. When his attack injures Lara his reasons for bringing her to his home are twofold as he wants to help her heal and gather any intel that he can use against his enemy but the one thing he hadn't counted on were his feelings for Lara.
After everything that Lara has been through she believes that her new situation is too good to be true however Gabriel shows her that he will do anything for those he cares about including protecting her from his enemies.