Title: Everything We Are
Author: Darby Blake & Sienna Ray
Genre: New Adult Romance / Forced Proximity / Best Friend's Little Sister / College Hockey
Release Date: June 21, 2022
Hosted by: Buoni Amici Press, LLC.


Thea Jenson has her future meticulously planned out. Graduate from college. Get a job. Marry her high school sweetheart and have two beautiful children. When she decides to transfer schools, her brother suggests she move in with him and his unruly hockey roommates. Everything in her life is going according to her plan . . .
. . . until she bumps into Kyler in their kitchen and sparks fly.
Kyler Rose, the starting center for the Northport University hockey team, is done for the moment he lays his eyes on Thea. But he can't allow her to become a distraction. He's determined to make it to the NHL. That's if he doesn't get booted for failing grades first. And even though he's on scholarship, it doesn't pay his bills or provide for his family. Neither do the tips he earns from his bartending gig. When an offer to make some fast cash falls in his lap, he takes it, thinking no one will care if he gets hurt . . .
. . . except Thea does care.
But just as Kyler finds a way to navigate his feelings for Thea, an unexpected link to his family comes to light and he finds himself in the fight of his life to protect those he loves the most – his family.
AMAZON | APPLE BOOKS | NOOK| KOBO| GOOGLE PLAY
> https://ctt.ec/LBEXi+ Purchase your copy at your favourite retailer https://ctt.ec/sUuQc+ #BAPpr #NewBooks">
💛Review💛
When Thea finds herself attending the same university as her brother she now finds herself living with him and three of his friends/teammates. The convenient arrangement is about to take a turn when she becomes attracted to Kyler, one of her roommates, despite the fact that she has a boyfriend.
Kyler has been warned by Thea's brother that they can be nothing more than friends which he didn't expect to be a problem until he met her. He needs to focus on school and hockey as his family is depending on him but his feelings for her might just be the one challenge he can't overcome.
Kyler has a lot going on in his life and Thea was there by his side through it all as they take us on a romantic and emotional ride with some surprises along the way.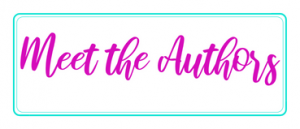 About Darby:
Darby Blake is a pen name for New York Times Bestselling Author Heidi McLaughlin. Darby's first novel, EVERYTHING WE ARE, co-written with her best friend, is due to be released in June 2022. Learn more about Darby by visiting darbyblake.com
About Sienna:
Sienna Ray is a quietly introverted author living in the UK. She lives with her other half and despite aspirations to be an author in her school days, has only just recently embarked on her writing journey. Her debut novel, EVERYTHING WE ARE, co-written with her best friend, is due to be released in June 2022.