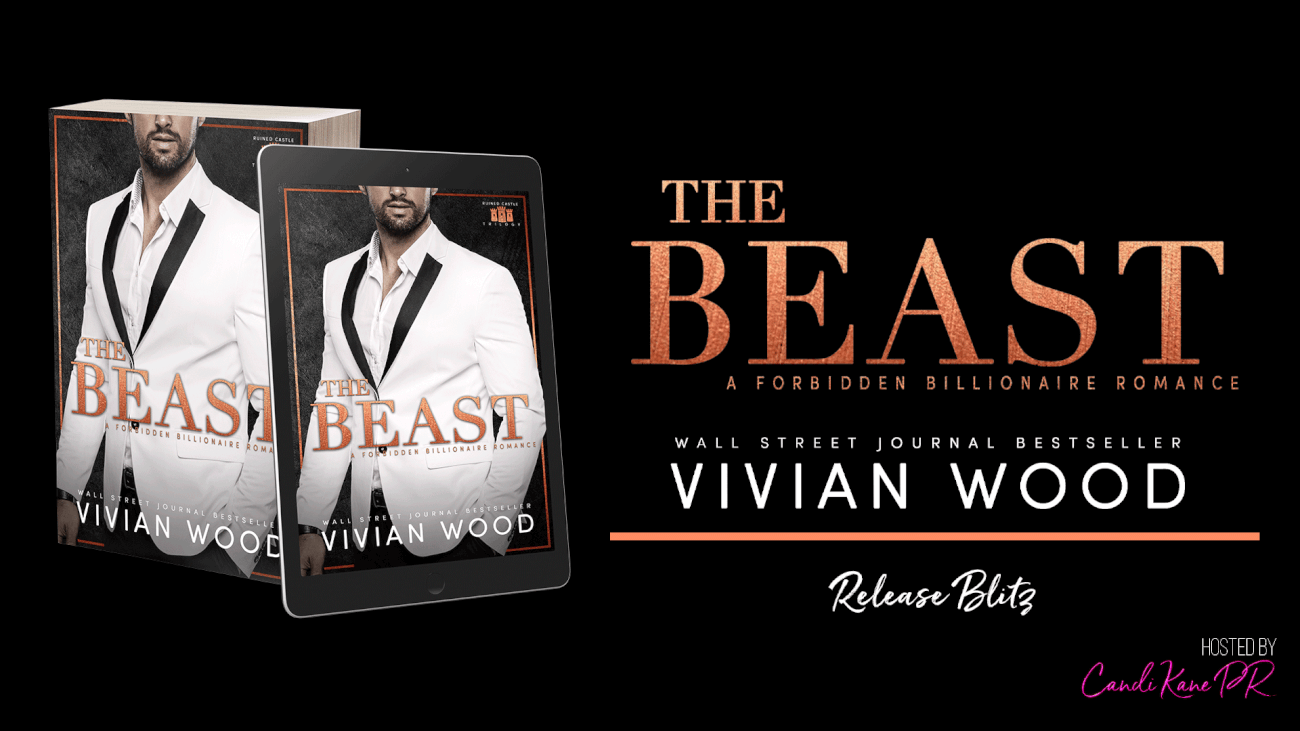 THE BEAST: A Forbidden Billionaire-Nanny Romance (Ruined Castle Series Book 2) by Vivian Wood
Release Date: August 18th
Genre/Tropes: Billionaire Antihero/Nanny/Dad Romance/Age Gap
AVAILABLE NOW!!!
Start the series for free!!!
Preorder the rest of the The Ruined Castles Series!!!
The Nanny #3: https://geni.us/vwthenanny
The Caress #4 https://geni.us/vwthecaress
Add to Goodreads:
https://www.goodreads.com/book/show/61130470-the-beast
Blurb:
"What a ****ing beast." – Every woman who's ever met me
Being a surly, driven CEO has earned me billions and lost me more assistants than I can count.
When my personal life goes off the rails, I suddenly become infamous for my temper.
Now, I am left to care for my rebellious young daughter alone.
That's when beautiful, delicate Ella comes into our lives.
A damaged former ballerina, she makes an instant connection with my wayward child.
Ella has been put in a desperate position by her own family.
So she hesitantly agrees when I ask her to be my daughter's au pair.
Being so close to Ella each day is such exquisite torture.
I can lust after her all I want, but never, ever go any further.
Ella's tempting curves beg for my hands to explore them.
With the spotlight of my job shining on both of us, I will behave myself.
…until I can't anymore.
The Beast is a contemporary billionaire romance from Wall Street Journal Bestseller Vivian Wood. It's the first full-length book in the gritty, raw, passionate Ruined Castles Series.
About the Author:
Vivian Wood is a USA Today, Wall Street Journal, and Amazon Top 20 bestselling author. She specializes in writing about damaged billionaires, ruined princesses, mouthy ballerinas, and anti-heroes that are oh so deliciously bad.
Vivian likes to write about troubled, deeply flawed alpha males and the fiery, kick-ass women who bring them to their knees.
Vivian's lasting motto in romance is a quote from a favorite song: "Soulmates never die."
Connect w/Vivian:
Facebook: https://bit.ly/2C3eZGy
Amazon: https://amzn.to/2OXb4im
Instagram: http://bit.ly/2ob66AI
Twitter: https://twitter.com/VivianKWood
Bookbub: https://bit.ly/2OhOpfd
Goodreads: http://bit.ly/2BEMRqB
🧡Review🧡
Keir is a wealthy and successful businessman and a single father to his daughter Isla. He has always ensured she has everything she wants which causes her to act out. When he meets Ella circumstances unfold that start a media frenzy that has him bringing Ella back to his home to be his daughter's nanny.
With Ella's career as a professional ballerina no longer possible she is at a crossroads, and she is uncertain about her father's motives about why he wants her to be the nanny to Keir's daughter. That decision is taken out of her hands, and it isn't long before she develops feelings for both father and daughter but there are still a lot of questions both about the man and the situation they find themselves in.
Secrets, suspense and steam as Keir and Ella draw us in and leave us wanting to know what the future holds for this couple.