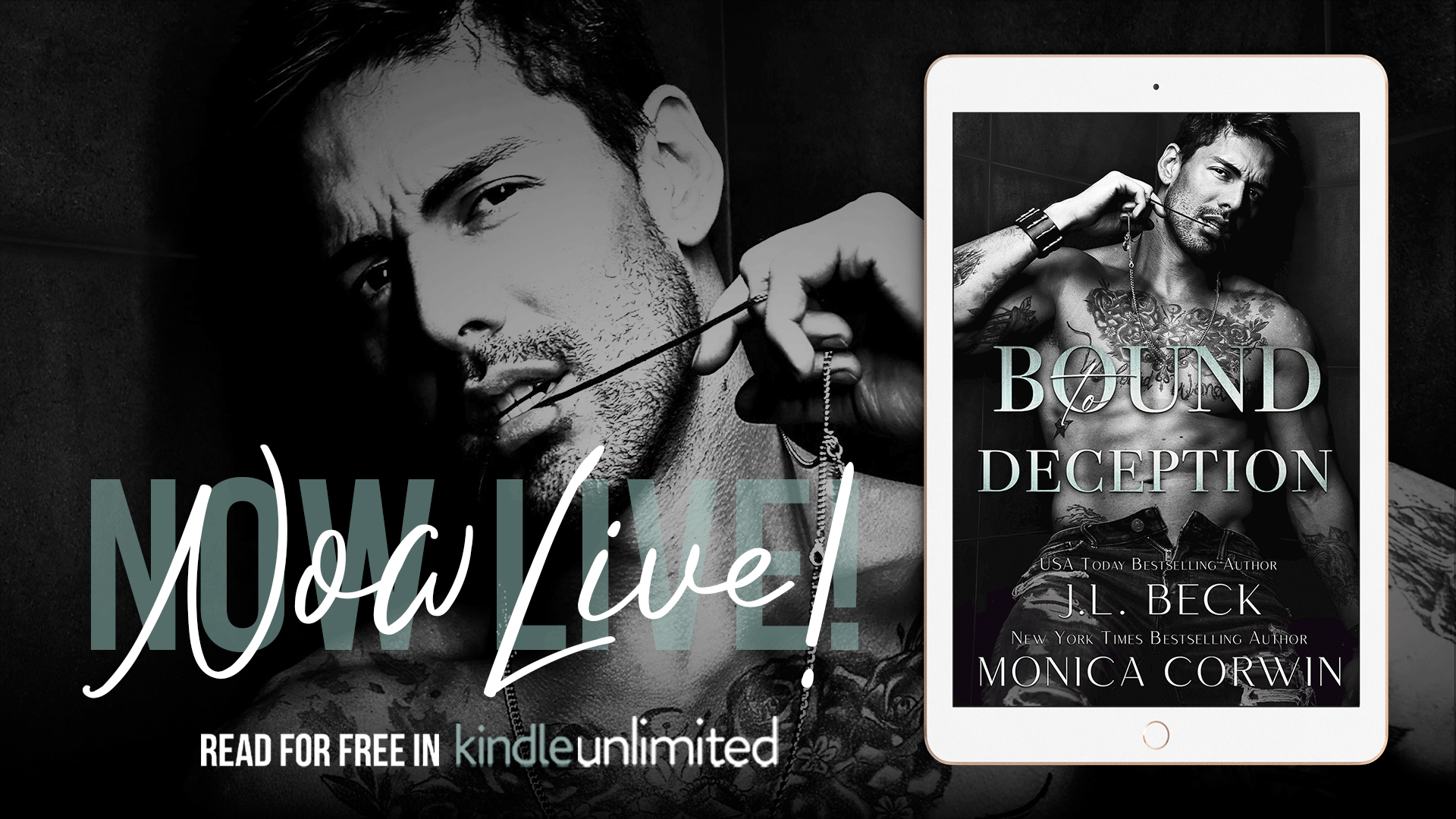 BOUND TO DECEPTION by JL Beck and Monica Corwin
Release Date: October 21st
Genre/Tropes: Mafia Romance/Revenge/Enemies to Lovers
Series: Doubeck Crime Family – Standalone
NEW RELEASE ALERT!!
BOUND TO DECEPTION, the fifth book in the Doubeck Crime Family series by JL Beck and Monica Corwin is NOW LIVE!
Grab this all-new dark mafia romance TODAY!
NOW AVAILABLE!!
START the series today!
Add to Goodreads:
https://www.goodreads.com/book/show/62107873-bound-to-deception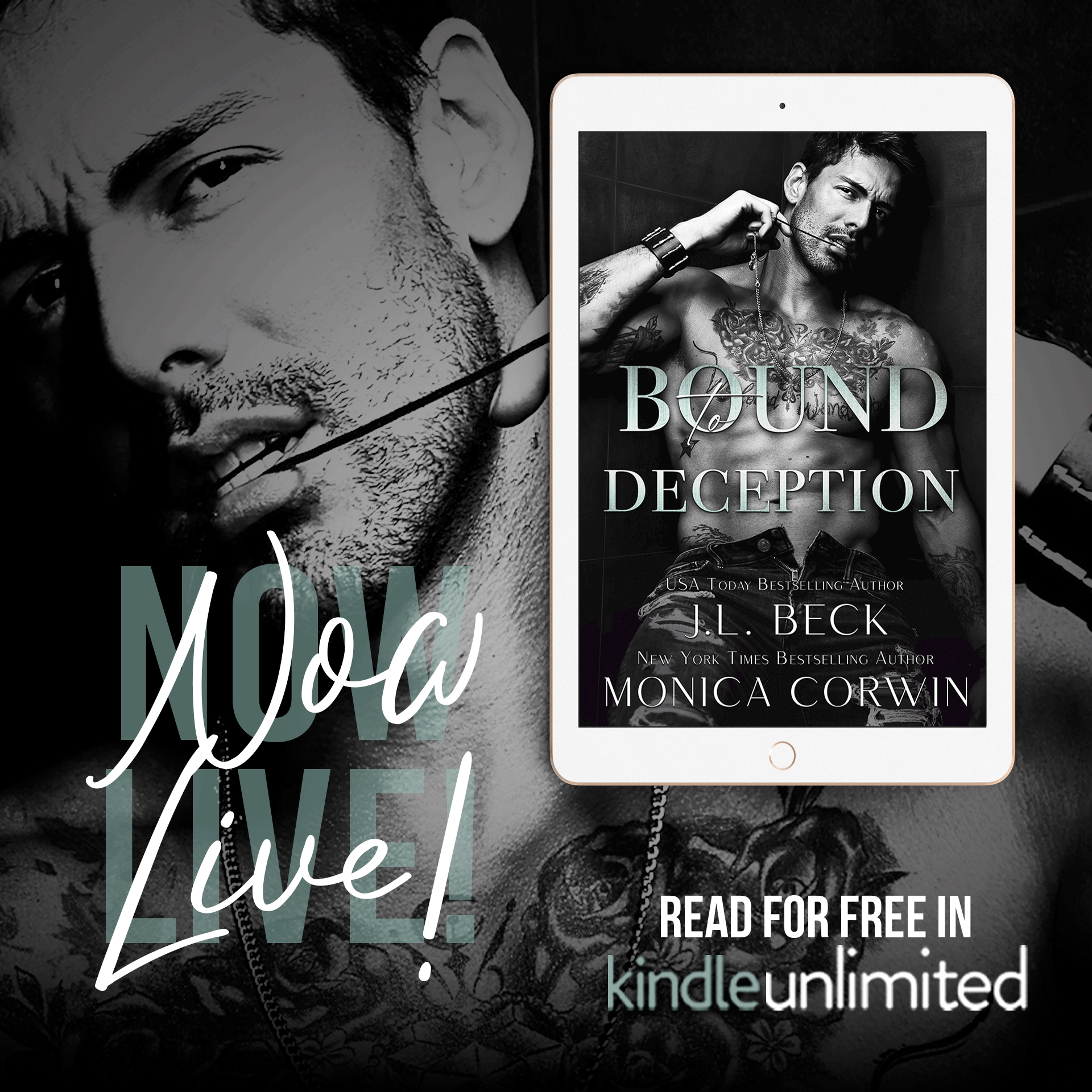 Blurb:
They call me an animal.
Ruled by my base instincts.
Owned by the rage roiling inside me.
A rage so deep I can't see my way out of it. Until her. Cilla is a pretty little trap I walk right into. And when the bait becomes the prey I'll show them how much of an animal I can really be.
Bound by deception, ruled by desire, I'll solve the mystery of little Cilla or we'll both be consumed by the never ending fury which threatens my very sanity.
**This is a complete standalone within the series and contains dark themes, not suitable for all readers.**
★Review★
Cillia finds herself living a life that no one should have to endure and the only way to escape the future her father has planned for her is to follow his demand. The only problem is that it includes going against a powerful and dangerous man who won't react well if he finds out her true intentions.
Ivan is a man who is loyal to those he cares about and a force to be reckoned with for those who are against him. After learning what Cillia had planned for him he should despise her and ensure that she can never strike again however he is about to realize that there is much more to the situation than first appears.
Cillia is so much stronger and resilient than even she knows especially with Ivan at her side as he evolves from threat to protector and shows that he will do whatever is necessary to keep her safe.
About JL Beck:
J.L. Beck loves good books, wine, and coffee. She's a lover of words and when she isn't writing you can find her working on her newest book baby. She started her publishing journey back in 2014 and hasn't stopped writing since. Living in Wisconsin with her husband, two kiddos, and dogs she wouldn't trade them for anything. Well, maybe…
Connect with JL Beck:
Facebook: https://www.facebook.com/AuthorJLBeck/
Instagram: https://www.instagram.com/authorjlbeck/
Amazon: http://amzn.to/2srbge9
Bookbub: http://bit.ly/2tOVZl8
Goodreads: https://www.goodreads.com/author/show/8425041.J_L_Beck
Bleeding Heart Book Club Group: http://bit.ly/2sWljZG
Beck and Hallman Facebook Page: https://www.facebook.com/beckandhallman
About the Monica Corwin:
Monica Corwin is a New York Times and USA Today Bestselling author. She is an outspoken writer attempting to make romance accessible to everyone, no matter their preferences. As a Northern Ohioian, Monica enjoys snow drifts, three seasons of weather, and a dislike of Michigan football. Monica owns more books about King Arthur than should be strictly necessary. Also typewriters…lots and lots of typewriters.
You can reach Monica by emailing her at monica@monicacorwin.com or monicacorwin@outlook.com
Connect w/Monica:
Website: http://www.monicacorwin.com
Facebook: https://www.facebook.com/monicacorwin
Facebook Group: https://www.facebook.com/groups/304861823330346
Twitter: http://www.twitter.com/monica_corwin
Instagram: http://instagram.com/rosetyper9
Goodreads: https://www.goodreads.com/author/show/6585416.Monica_Corwin
Bookbub: https://www.bookbub.com/authors/monica-corwin
Amazon: https://amzn.to/3bKiihA
Newsletter Signup: http://madmimi.com/signups/267423/join