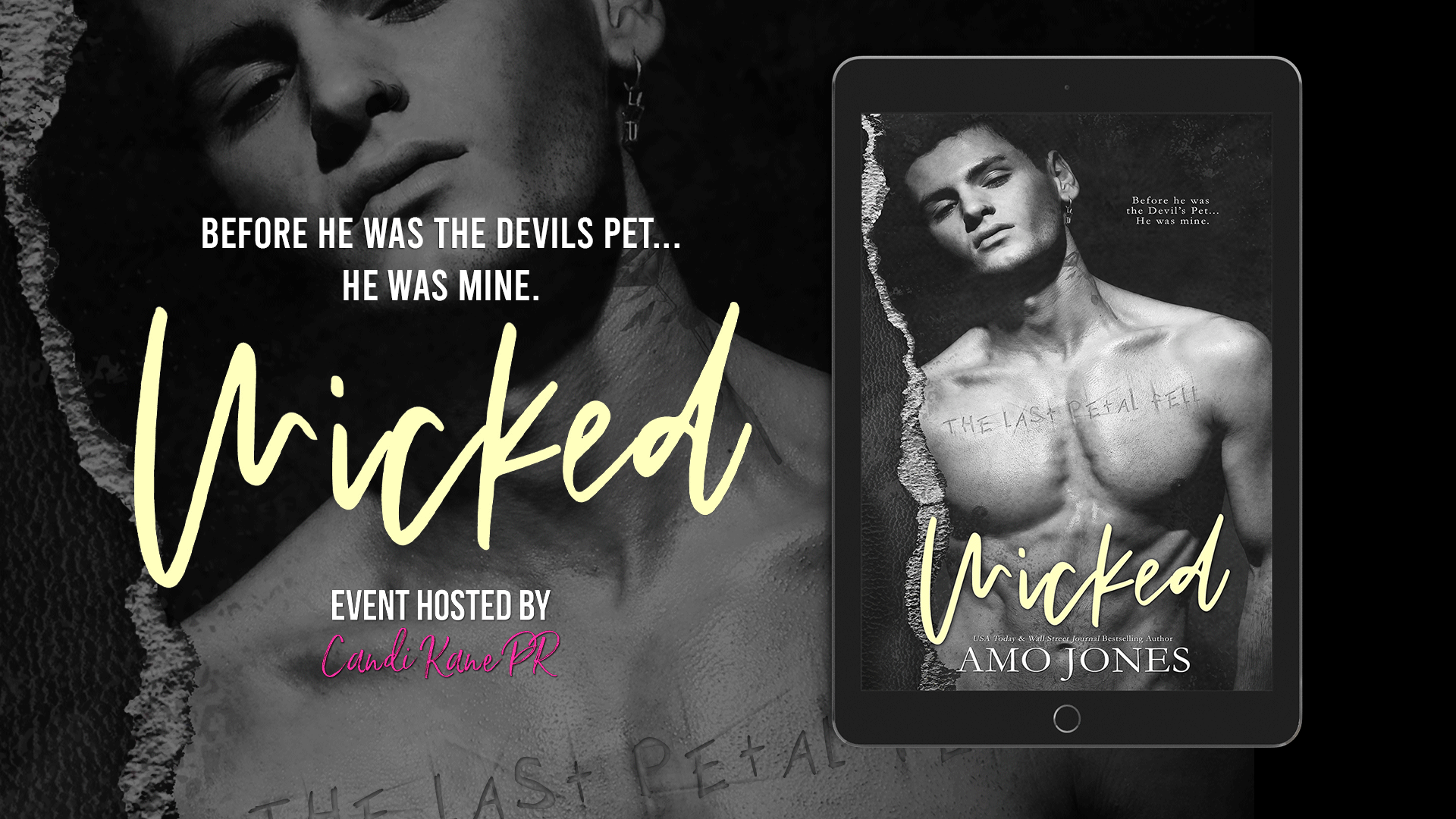 WICKED by Amo Jones
Release Date: November 7th
Genre/Tropes: Mafia Romance/MC Romance
Complete Standalone within the Sicko world
WICKED, an all-new standalone book in the Sicko world, by Amo Jones is NOW LIVE!
Download this all-new mafia MC romance TODAY!!
NOW AVAILABLE!
Blurb:
I remember the day he walked through our front door, bloodied and broken with the kind of torment that breeds, but never dies. Papa had one rule for him. Stay away from his daughter.
He didn't.
Years later, he crashes back into my life and tears down all of the walls I built up around myself. We're both hiding secrets, but when the mafia world collides with the MC world, the shrapnel could destroy everyone around us.
Now the president of the Chicago chapter, not even I was prepared for his return. He's going to see that I'm no longer the precious princess of the Cosa Nostra, and I won't play his games anymore.
He'll play mine.
This is a story about two souls destined to be together, but who are trapped in bodies that hate each other. It's what happens when you both let love kill you.
💛Review💛
Born and raised in the mafia Ruby knew what was expected of her and the strong woman she would have to be. She needs to maintain a clear head and not be distracted by emotions but when Wolf and his sister came to live with her family, he will either prove to be her downfall or her salvation.
The next time that they see each other Wicked is the MC president who has become even more closed off and is a man with deep and dark secrets. The feelings and chemistry between them are stronger than ever but so are all the things standing between them including everything that happened when they were together and apart.
Despite the fact that mafia and MC do not normally mix when it comes to Ruby and Wicked that is not the case. Everything they have seen and had to do in order to survive allow them to understand and appreciate each other in a way few people do and they prove that together there is nothing they can't overcome.
About the Author:
Amo Jones is a USA Today & Wall Street Journal Bestselling Author, totally winging this author thing (she's probably doing it all wrong). She likes cake, loves wine, and her religion is magic (Slytherin). She's a profound work-a-holic, but when she's not writing, you can find her chilling with her kids & Husband at the nearest beach, with a cocktail in her hand.
New Zealand is not a state of Australia and rugby is the best sport ever played.
Connect w/Amo:
Website: https://www.amojonesbooks.com
Facebook: https://www.facebook.com/amojonesauthor
Facebook Group: https://www.facebook.com/groups/10114
Twitter: https://twitter.com/authorAmojones
Instagram: https://www.instagram.com/thatcrazykiwiauthor
Goodreads: https://www.goodreads.com/author/show/14047384.Amo_Jones
Amazon: https://amzn.to/36soMis
Bookbub: https://www.bookbub.com/authors/amo-jones