DESTROY ME by Michelle Heard
Release Date: January 9th
Genre/Tropes: Mafia Romance/Enemies To Lovers/Grumpy Vs Sunshine/Touch Her And Die Vibes
Complete standalone in the Corrupted Royals series
DESTROY ME, an all-new standalone in the Corrupted Royals series by Michelle Heard is now LIVE!
Grab this all-new enemies-to-lovers mafia romance TODAY!
NOW AVAILABLE!!!
US: https://www.amazon.com/dp/B0BP1TKFJC
UK: https://www.amazon.co.uk/dp/B0BP1TKFJC
AU: https://www.amazon.com.au/dp/B0BP1TKFJC
CA: https://www.amazon.ca/dp/B0BP1TKFJC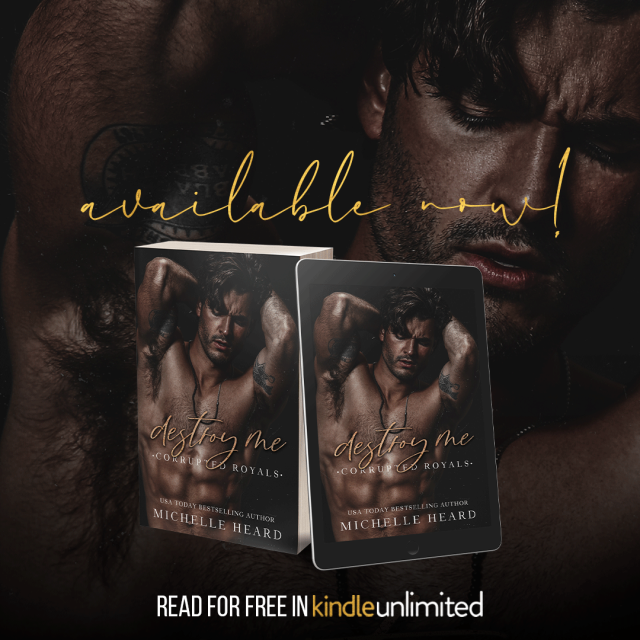 Add to Goodreads:
https://www.goodreads.com/book/show/62399365
Blurb:
Our first meeting was at a nightclub, and it was something straight out of my most romantic fantasies.
My ovaries exploded at the sight of the Russian God. And by God, I mean he was ripped, tall, dark, and deadly attractive. There were enough sparks between us to light up a city.
Then an explosion blasted through the nightclub, and we got trapped together for three hours, sharing our most personal details… everything but our names.
Two years later, our second meeting is the complete opposite of the first. It's clear Misha Petrov, a Russian enforcer for the bratva, despises me. The emotional night we shared meant nothing to him.
You see, my family is sworn enemies with the bratva and Italian mafia, which means Misha considers me a threat.
I wish I could hate him the way he hates me. But nooo, my stupid heart wants what it wants.
Every rough touch from Misha makes my skin tingle.
Every low-rumbling threat growled through his clenched teeth has my breath speeding up.
We might be sworn enemies, but I can't stop myself from wanting this dangerous man.
Then there's the other problem.
If I can, by some miracle, get Misha to fall in love with me, we'll only have to face the entire bratva and my family.
What could possibly go wrong?
STANDALONE: An Italian Mafia Romance full-length novel.
WARNING: 18+ only. Please read responsibly. THIS NOVEL CONTAINS TRIGGERING CONTENT.
💛Review💛
Aurora is an Italian mafia princess who has been sent to St. Monarch to complete her education. The last person she expected to see was the man who stole her heart two years earlier when he was there for her during a stressful situation. The second surprise was that he was part of the Bratva and considered her his enemy.
Misha is part of the Bratva and was drawn to Aurora when they met two years earlier until he found out who her family is. He never wanted to see her again and now they find themselves attending the same school. Keeping his distance seems like the best course of action however that is proving difficult to do especially with his need to protect her from the escalating danger.
Aurora knows what she wants and that is Misha while he is torn between his loyalty to the Bratva and his love or Aurora as their journey is filled with hot chemistry, intrigue and a love that was always meant to be.
About the Author:
Michelle Heard is a Wall Street Journal, and USA Today Bestselling Author who loves creating stories her readers can get lost in. She resides in South Africa with her son where she's always planning her next book to write, and trip to take.
Connect w/Michelle:
Website: https://michelleheardauthor.wordpress.com
Facebook: https://www.facebook.com/MHeardAuthor
FB Readers Group: https://www.facebook.com/groups/118971435201074
Instagram: https://www.instagram.com/authormichelleheard
Twitter: https://twitter.com/MichelleAHorst
Amazon: https://amazon.com/author/michellehorst
Goodreads: https://www.goodreads.com/author/show/18108320.Michelle_Heard
BookBub: https://www.bookbub.com/authors/michelle-heard
TikTok: https://vm.tiktok.com/ZTd5K2HcN/
Newsletter Signup: https://preview.mailerlite.com/webforms/landing/p6m4o4