TOUCH OF HATE by JL. Beck and C. Hallman
Release Date: January 27th
Genre/Tropes: Dark Romance/New Adult/Enemies to Lovers
TOUCH OF HATE by JL. Beck and C. Hallman is LIVE!!
Grab this all-new dark romance, enemies to lovers TODAY!
Add Goodreads:
https://www.goodreads.com/book/show/62307187-touch-of-hate
Blurb:
Betrayal cuts the deepest.
I would know better than anyone.
They never suspected me to be the villain.
That didn't matter anymore, though, because I didn't just want revenge, I needed it.
Leaving my old life behind, I knew I could never return, but there was something… no, someone I had left behind.
Scarlett.
Kind. Innocent. Fragile.
She was a light in the darkness of my life.
Back then, she was always meant to be mine, even if having her meant breaking every single rule.
Now enemies or not, she would still be mine.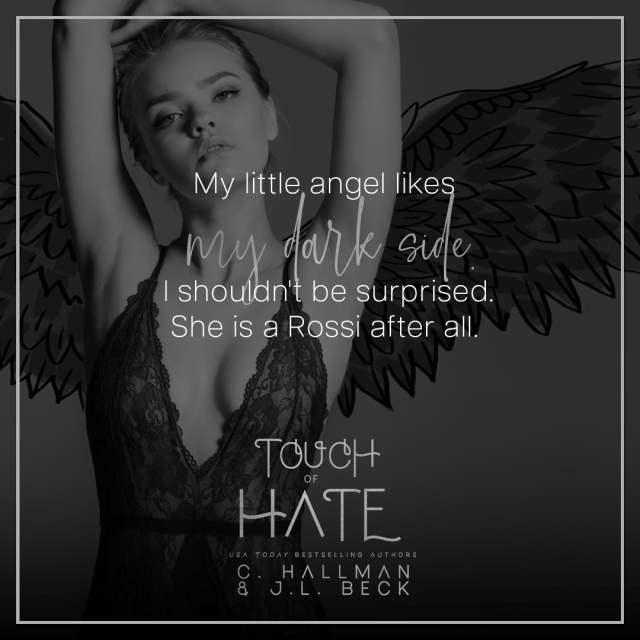 💛Review💛
Scarlet doesn't remember a time that she hasn't had feeling for her brother's best friend Ren but if there is one word to describe their relationship it is difficult. They embarked on a secret relationship as they knew that others wouldn't approve of them being together however she is about to realize that there is a lot about him that she doesn't know.
When it came to Scarlet she was supposed to be a means to an end so that Ren could accomplish his ultimate goal. Developing feelings for her may not be part of the plan but he can't let that distract him from ensuring that what needs to be done is done.
This is the beginning of Scarlet and Ren's story that leaves us wanting more. Scarlet's desire to follow her heart leads to trouble while Ren is a character that at times will intrigue you and at times you will despise.
About JL Beck:
J.L. Beck loves good books, wine, and coffee. She's a lover of words and when she isn't writing you can find her working on her newest book baby. She started her publishing journey back in 2014 and hasn't stopped writing since. Living in Wisconsin with her husband, two kiddos, and dogs she wouldn't trade them for anything. Well, maybe…
Connect with JL Beck:
Facebook: https://www.facebook.com/AuthorJLBeck/
Instagram: https://www.instagram.com/authorjlbeck/
Amazon: http://amzn.to/2srbge9
Bookbub: http://bit.ly/2tOVZl8
Goodreads: https://www.goodreads.com/author/show/8425041.J_L_Beck
Bleeding Heart Book Club Group: http://bit.ly/2sWljZG
Beck and Hallman Facebook Page: https://www.facebook.com/beckandhallman
Subscribe to Beck & Hallman's Newsletter: https://mailchi.mp/c588f427a88d/newslettersignup
About C. Hallman:
Born and raised in Germany, C. Hallman moved to the United States when she was eighteen. She's now a stay-at-home-mom to three boys, and happily married to her husband of 13 years. With a love for reading, that love slowly transpired into writing she put fingers to the keyboard and started writing about the dark side of romance.
Connect with C. Hallman:
Facebook: https://www.facebook.com/CassandraHallman
Instagram: https://www.instagram.com/cassandra_hallman/
Bookbub: https://www.bookbub.com/profile/cassandra-hallman
Twitter: https://twitter.com/CassyHallman
Goodreads: https://www.goodreads.com/author/show/18210189.Cassandra_Hallman
Amazon: https://amzn.to/2QfhMzu
Bleeding Heart Book Club Group: http://bit.ly/2sWljZG
Beck and Hallman Facebook Page: https://www.facebook.com/beckandhallman
Subscribe to Beck & Hallman's Newsletter: https://mailchi.mp/c588f427a88d/newslettersignup