💙
ℕ𝔼𝕎 ℝ𝔼𝕃𝔼𝔸𝕊𝔼
💙
𝐋𝐢𝐤𝐞 𝐘𝐨𝐮 𝐊𝐧𝐨𝐰, 𝐭𝐡𝐞 𝐠𝐫𝐢𝐩𝐩𝐢𝐧𝐠 𝐟𝐢𝐧𝐚𝐥 𝐛𝐨𝐨𝐤 𝐢𝐧 𝐭𝐡𝐞 𝐃𝐞𝐯𝐢𝐥𝐛𝐞𝐧𝐝 𝐃𝐲𝐧𝐚𝐬𝐭𝐲 𝐬𝐞𝐫𝐢𝐞𝐬 𝐛𝐲 𝐊𝐚𝐲𝐝𝐞𝐧𝐜𝐞 𝐒𝐧𝐨𝐰, 𝐢𝐬 𝐋𝐈𝐕𝐄 𝐚𝐧𝐝 𝐅𝐑𝐄𝐄 𝐭𝐨 𝐝𝐨𝐰𝐧𝐥𝐨𝐚𝐝 𝐰𝐢𝐭𝐡 𝐊𝐢𝐧𝐝𝐥𝐞 𝐔𝐧𝐥𝐢𝐦𝐢𝐭𝐞𝐝!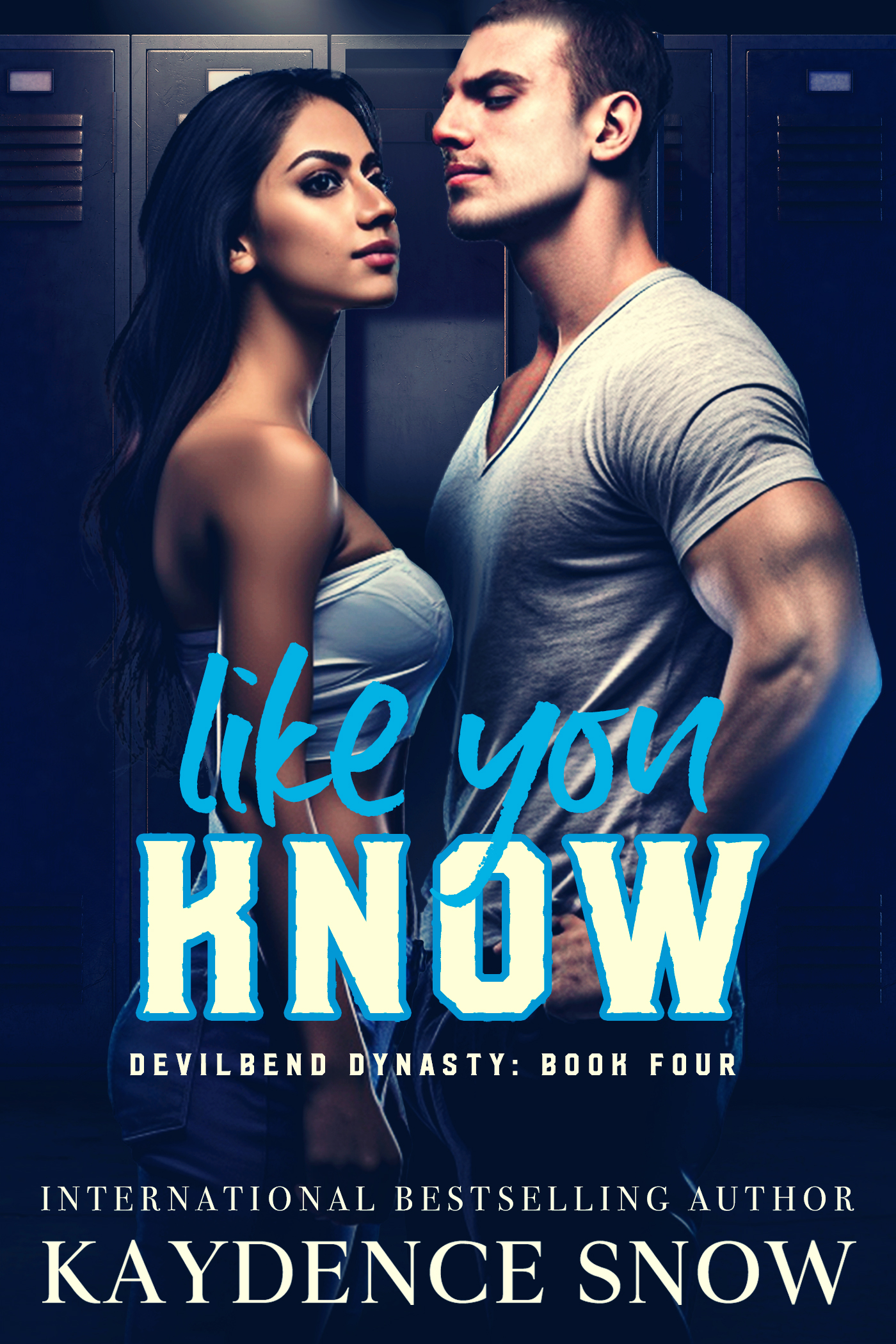 #1Cʟɪᴄᴋ ᴛᴏᴅᴀʏ! https://geni.us/likeyouknow
There are exactly three people in this whole world who know my secrets, my vulnerabilities, my pain. But then Jet Collins walks into my life and turns everything upside down.
Suddenly, I find myself keeping things from those closest to me. Even more shockingly, I'm sharing those very same secrets with someone I hardly know.
Jet's charming and confident and everyone at school immediately wants to be his friend, but I'm the one person he can't seem to stay away from. It's irritating that I actually want to confide in him.
Yet every time I let myself get a little closer, he pulls away.
Boy trouble is the last thing I need. With a dangerous cult in town, my friends and I have already been in serious danger too many times to count, and things seem to be escalating again.
As the threat of BestLyf looms closer and my friends and I find ourselves in danger yet again, I can't help wondering if Jet is dangerous too. Or is he just dangerous to my heart?
💙Review💙
The past has ensured that Amaya doesn't allow many people close, and she is cautious about who she entrusts with those things she wants to remain hidden. Despite the fact that she doesn't know Jet very well she is drawn to him in spite of herself even if she doesn't know if he has agenda he intends to use against her.
Jet seems to be fitting in seamlessly both when it comes to school and the other students. Despite his intentions Amaya is a temptation that he can't ignore but he has his own secrets to protect.
Suspense, turmoil and surprises as Amaya and Jet realize that despite all the challenges what they share is too powerful to deny.
Connect with Kaydence
Website | kaydencesnow.com
Goodreads | https://bit.ly/3BwRdLH
Amazon | amazon.com/author/kaydencesnow
Facebook | https://bit.ly/3Gz4Uxo
Facebook Group | https://bit.ly/3GAcE2l
Instagram | https://bit.ly/3mxfzRe
TikTok | https://bit.ly/3GFLTJE
Twitter | https://bit.ly/2ZO2bj9
Bookbub | bookbub.com/authors/kaydence-snow
Newsletter | kaydencesnow.com/#newsletter