JUST WANTED YOU TO KNOW
Kait Nolan
Release Date: April 14
Livia Applewhite needs a change. Her awful boss has made the job she used to love a serious drag. On top of that, it seems everyone around her is paired off in romantic bliss. It's enough to give a girl a complex. Hoping a change of scenery will give her new perspective, she sets off for a two-week trip to Tennessee to visit her favorite cousin.
It's been more than a decade since Declan Callahan has thought about anything but being a dad. But when his extensive (and meddling) foster family wrangles him into a "chance" encounter with the first love he had to leave behind, he's wise enough not to waste it. He's got a long-overdue apology to make.
But as that apology opens a door long shut, Livia and Declan give in to the spell of nostalgia, basking as all those old feelings kindle anew. They're fully grown now, with lives in different places. Will this brief encounter be enough to convince Livia to give the undeniable connection between them a real second chance?
Grab Your Copy!
Amazon: https://geni.us/JWYTKzon
Apple: https://books.apple.com/us/book/just-wanted-you-to-know/id6445539853?at=1001lKfI
B&N: https://www.barnesandnoble.com/w?ean=2940186569015
Kobo: https://www.kobo.com/ca/en/ebook/just-wanted-you-to-know
Google: https://play.google.com/store/books/details?id=OwmqEAAAQBAJ
Smashwords: https://www.smashwords.com/books/view/1330325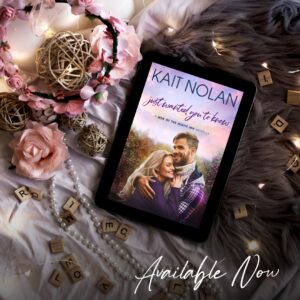 💜Review💜
Declan fell in love with Livia when they were teenagers however when he receives some unexpected news, he doesn't hesitate to do what he believes is right. Leaving Livia was a difficult decision but not explaining was one of his biggest regrets.
Livia is at a crossroads in her life, so she heads to Eden's Ridge to spend time with her family however the one person she wasn't expecting to see was the same person who broke her teenage heart. The feelings between them haven't diminished over time but will they be enough to overcome the pain and mistakes of the past.
This is a second chance at love between Declan and Livia. I enjoyed seeing their relationship unfold and his daughter and the other secondary characters only enhanced this heartwarming story.
Meet Kait Nolan:
Kait Nolan is a USA Today best selling, RITA® Award-winning Mississippi author who calls everyone sugar, honey, or darlin', and can wield a 'Bless your heart' like a Snuggie or a saber, depending on requirements. She believes in love, laughter, and that tacos are the world's most perfect food. When she's not writing, reading, or wrangling family (both the two-legged and the four-), you can find her obsessively watching The Great British Bake Off.
Keep up with Kait Nolan and subscribe to her newsletter: https://kaitnolan.com/newsletter/
Kait Nolan & her books, visit here!
Connect with Kait Nolan:
https://kaitnolan.com/contact/
Hosted By: