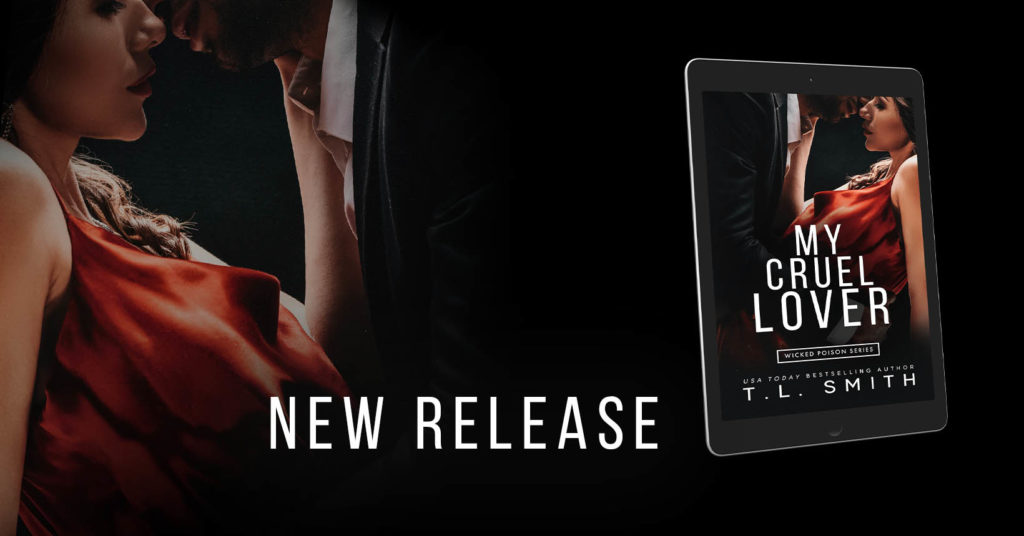 🖤🖤 ℍ𝕠𝕥 ℕ𝕖𝕨 ℝ𝕖𝕝𝕖𝕒𝕤𝕖 🖤🖤
𝗠𝘆 𝗖𝗿𝘂𝗲𝗹 𝗹𝗼𝘃𝗲𝗿 𝗯𝘆 𝗨𝗦𝗔 𝗧𝗼𝗱𝗮𝘆 𝗯𝗲𝘀𝘁𝘀𝗲𝗹𝗹𝗶𝗻𝗴 𝗮𝘂𝘁𝗵𝗼𝗿 𝗧.𝗟. 𝗦𝗺𝗶𝘁𝗵 𝗶𝘀 𝗟𝗜𝗩𝗘! 𝗗𝗼𝗻'𝘁 𝗺𝗶𝘀𝘀 𝘁𝗵𝗶𝘀 𝘀𝘁𝗮𝗻𝗱𝗮𝗹𝗼𝗻𝗲 𝗶𝗻 𝘁𝗵𝗲 𝗪𝗶𝗰𝗸𝗲𝗱 𝗣𝗼𝗶𝘀𝗼𝗻 𝘀𝗲𝗿𝗶𝗲𝘀!
#𝟭-𝗰𝗹𝗶𝗰𝗸 𝘁𝗼𝗱𝗮𝘆!
#𝙋𝙧𝙚-𝙤𝙧𝙙𝙚𝙧 𝙩𝙤𝙙𝙖𝙮!
BOOK BLURB
My heart has been broken, torn to shreds.
I'm used to the game of pain.
Basically, I'm acquainted with it.
Some would say I've become immune.
That is…
… until him.
He's cruel, hard, and everything I should stay away from.
For one, he is my boss.
Second, well, I can't stay away.
But in this game of life, maybe pain is my love.
Or maybe I'm not seeing things clearly.
Because every time his hands touch me, it's anything but cruel.
Add to your Goodreads TBR ➜ https://bit.ly/MCL-GR
PURCHASE LINKS
Apple ➜ http://apple.co/36kqoxK
B&N ➜ http://bit.ly/3bDPVns
Amazon➜ https://amzn.to/2MxIfdm
Amazon Aus ➜ http://amzn.to/2YsStyc
Amazon UK ➜ http://amzn.to/3abPakF
ABOUT THE AUTHOR
USA Today Best Selling Author T.L. Smith loves to write her characters with flaws so beautiful and dark you can't turn away. Her books have been translated into several languages. If you don't catch up with her in her home state of Queensland, Australia you can usually find her travelling the world, either sitting on a beach in Bali or exploring Alcatraz in San Francisco or walking the streets of New York.
AUTHOR LINKS
FB Page | Instagram | BookBub | Reader Group | Amazon | Newsletter sign up | TikTok
Text Club: Text TLSmith to 312-728-8217 (US only for new releases of mine)
❤️Review❤️
Beckham deals with the tragic loss of the only woman he has ever loved by numbing his pain with alcohol and women. He is bitter with the hand that life has dealt him and takes his anger and grief out on others and that includes his assistant.

Jacinta's hasn't made the best choices when it comes to her romantic past so she focuses on her job and being the best mother she can to her son. She isn't about to let Beckham's abysmal behavior towards her go unchallenged.

Beckham is a paradox that you will both love and hate depending on his actions while after everything that Jacinta has endured, she has emerged stronger and isn't about to just take what Beckham is dishing out. The chemistry between them was never a problem but their pasts certainly created some obstacles that they would need to overcome.