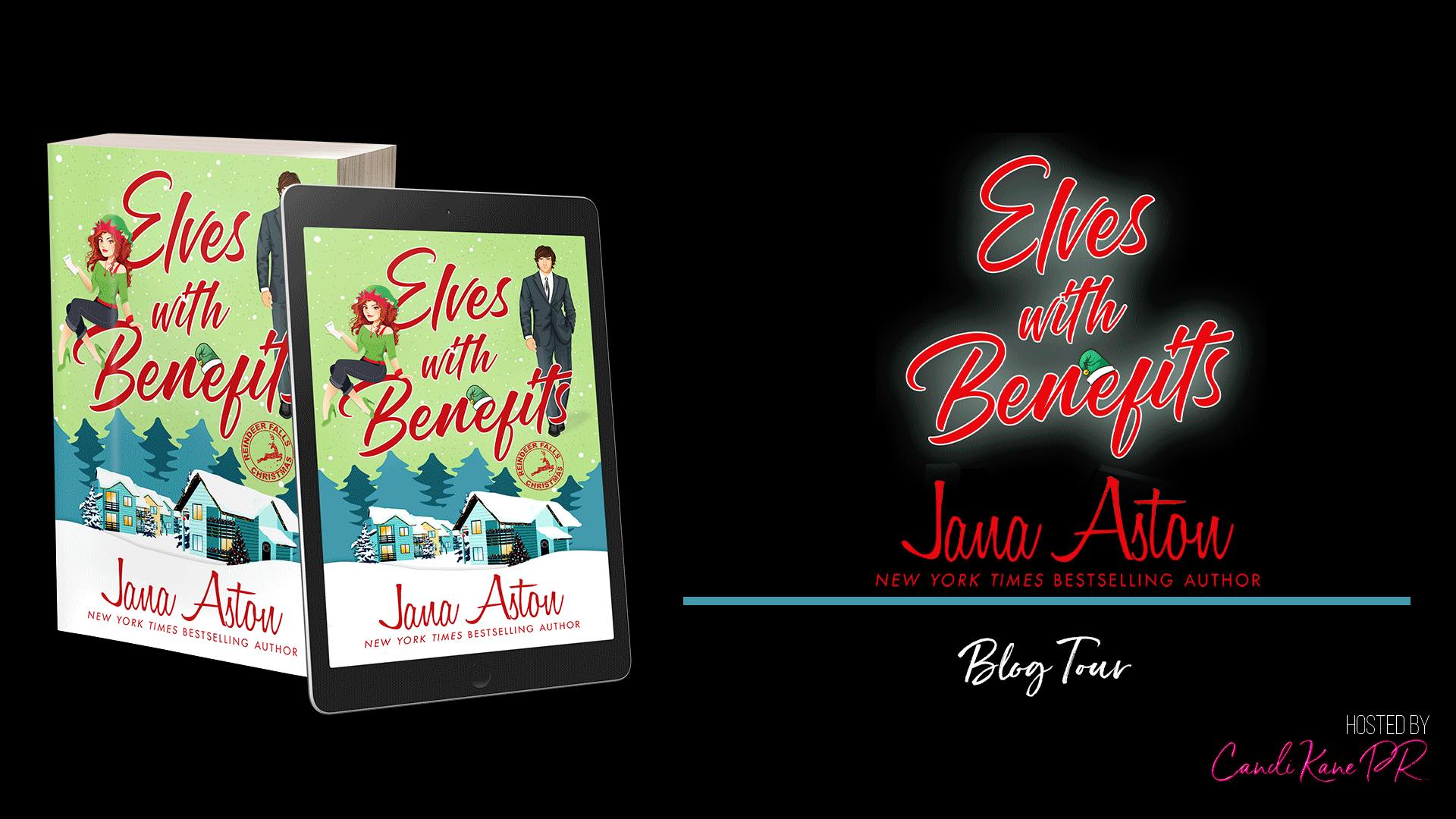 ELVES WITH BENEFITS (Reindeer Falls Book 4)
by Jana Aston
Release Date: November 4th
NOW AVAILABLE!!! FREE IN KU!!!
Amazon: https://bit.ly/ElvesRF4
Listen TODAY on Audio!!
Reminder Falls Collection Volume #2:
Audio: https://bit.ly/RF2_Audio
Audible: https://bit.ly/RF2_AUDIBLE
Add to Goodreads: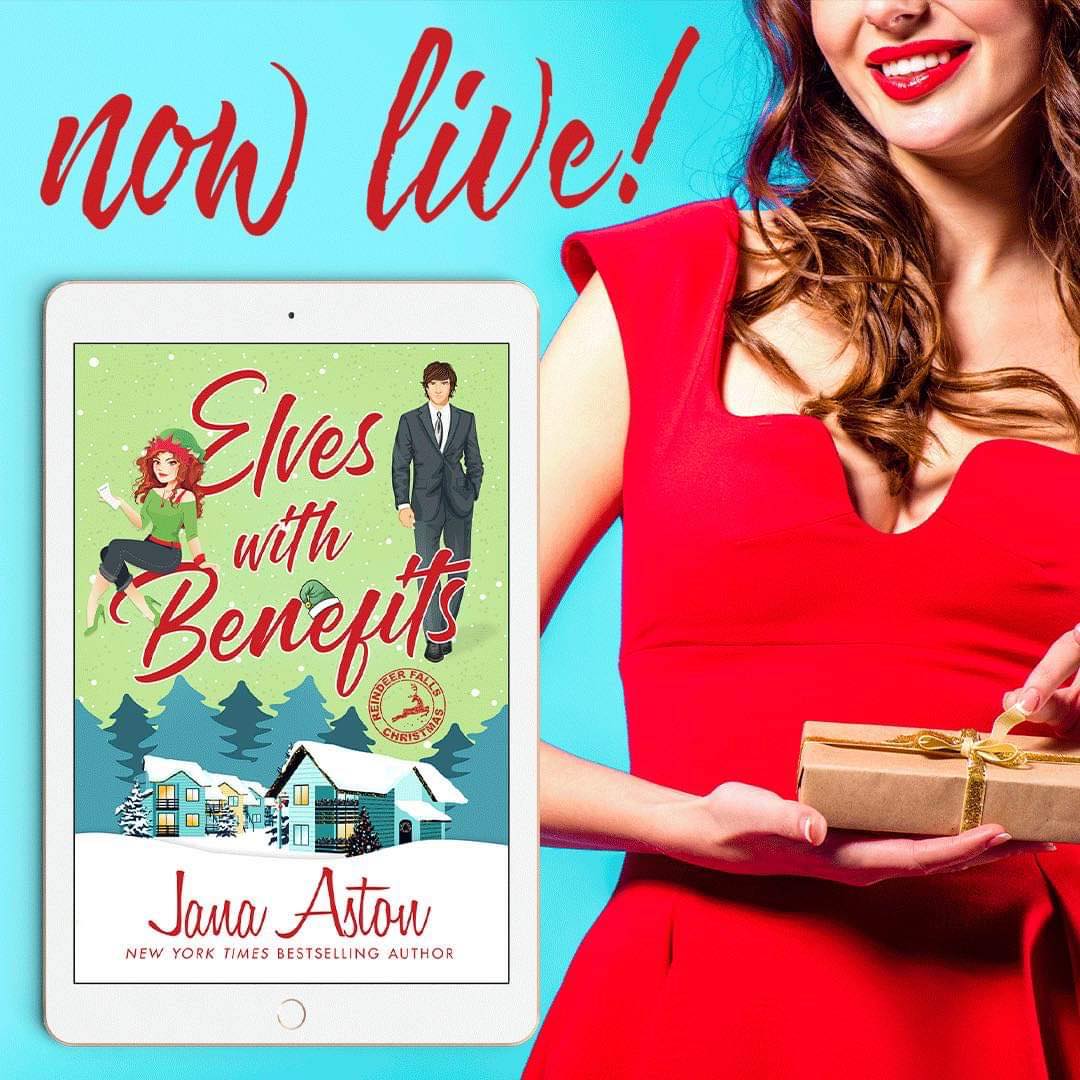 PREORDER ONE NIGHT WITH A NUTCRACKER, book 5!!!
PREORDER THE BACHELOR ON THE SHELF, book 6!!!
Blurb:
My name is Ryan Sheppard and I don't care about Christmas. I'm only returning to my over-the-top Christmas-themed hometown to sell the house I inherited from my late uncle so I can get back to the city and the promotion I'm chasing at work.
Unfortunately, there's a flaw in my plan.
Because according to the town Christmas cop, there's a moratorium on selling houses during December. She says it's bad for the aesthetic. She's also slapping an alarming number of tickets on my front door. For being in violation of holiday décor. And I swear on Rudolph himself, one is for 'unsportsmanlike Christmassing.'
To top it all off, this Christmas cop looks like a red-headed elf.
A sexy red-headed elf…
Ryan is an architect in Chicago who has returned to Reindeer Falls to finalize his uncle's estate. He has no interest in partaking in the Christmas cheer that has taken over the town despite the many citations he has received from a determined elf both for his lack of decorations and holiday spirit.
To Maggie Christmas is the most wonderful time of the year and due to her past she embraces the magic that this time of year brings, and it is her job to ensure that other people do as well. Every time they are together they sparks fly as even though she may be attracted to Ryan the same can't be said for his cantankerous personality. Who will win this battle of wills?
Ryan and Maggie were so adorable together as she is determined to get him into the spirit and although she may annoy him, he also finds her endearing. The banter between them is humorous and will have you believing in the wonder of the season as well.
About the Author:
Jana Aston likes cats, big coffee cups and books about billionaires who deflower virgins. She wrote her debut novel while fielding customer service calls about electrical bills, and she's ever grateful for the fictional gynecologist in Wrong that readers embraced so much she was able to make working in her pajamas a reality. Jana's novels have appeared on the NYT, USA Today and Wall Street Journal bestseller lists, some multiple times. She likes multiples.
Connect w/ Jana:
Instagram: http://bit.ly/IGJanaAston
Facebook: http://bit.ly/FBJanaAston
Facebook Group: http://bit.ly/GrindMeCafe
Twitter: http://bit.ly/TwitterJanaAston
Amazon: http://bit.ly/AmazonJanaAston
Bookbub: http://bit.ly/BBJanaAston
Goodreads: http://bit.ly/GRJanaAston
Website: http://www.janaaston.com
Newsletter: http://bit.ly/NewsletterJana