🖤🖤 HOT NEW RELEASE 🖤🖤
𝗧𝗵𝗲 𝗝𝗼𝗸𝗲𝗿 𝗯𝘆 𝗔𝘀𝗵𝗹𝗲𝘆 𝗠𝘂𝗻𝗼𝘇 𝗶𝘀 𝗟𝗜𝗩𝗘!! 𝗗𝗼𝗻'𝘁 𝗺𝗶𝘀𝘀 𝘁𝗵𝗶𝘀 𝗺𝗮𝗳𝗶𝗮 𝗳𝗿𝗶𝗲𝗻𝗱𝘀-𝘁𝗼-𝗹𝗼𝘃𝗲𝗿𝘀-𝘁𝗼-𝗲𝗻𝗲𝗺𝗶𝗲𝘀 𝗿𝗼𝗺𝗮𝗻𝗰𝗲!
#𝟭-𝗰𝗹𝗶𝗰𝗸 𝘁𝗼𝗱𝗮𝘆!
BLURB
Kyle James cashed in my V card and then disappeared like I was the finishing act in a magic show.
I vowed to hate my best friend, turn the longing and secret obsession with him into toxic hate and maybe a poorly chosen tattoo.
But as the years passed, I let go of any notions I'd ever see him again…until he sauntered on campus my senior year as a new transfer student.
All of Rake Forge was obsessed with his inked skin and that darkness that seemed to seep out of every methodical step he took.
I wasn't. I knew the boy underneath, and while I wanted to know where he'd been…I would never ask.
Until my dad needed a favor. His team required a way in with my ex-best friend and his contacts.
I knew Kyle would see through it…but I went anyway.
Suddenly, my world, made of black and white was bleeding color…and he was at the center, daring me to trust him.
My heart, blind and foolish chose to not only trust but to love him too.
I really should have known better.
I was merely a way in for my father, and for the man, I loved…I was just a way out.
𝗔𝗱𝗱 𝘁𝗼 𝘆𝗼𝘂𝗿 𝗚𝗼𝗼𝗱𝗿𝗲𝗮𝗱𝘀 𝗧𝗕𝗥 ➜ https://bit.ly/TheJoker-GR
PURCHASE LINKS
AMAZON UNIVERSAL ➜ https://books2read.com/u/bra8Bz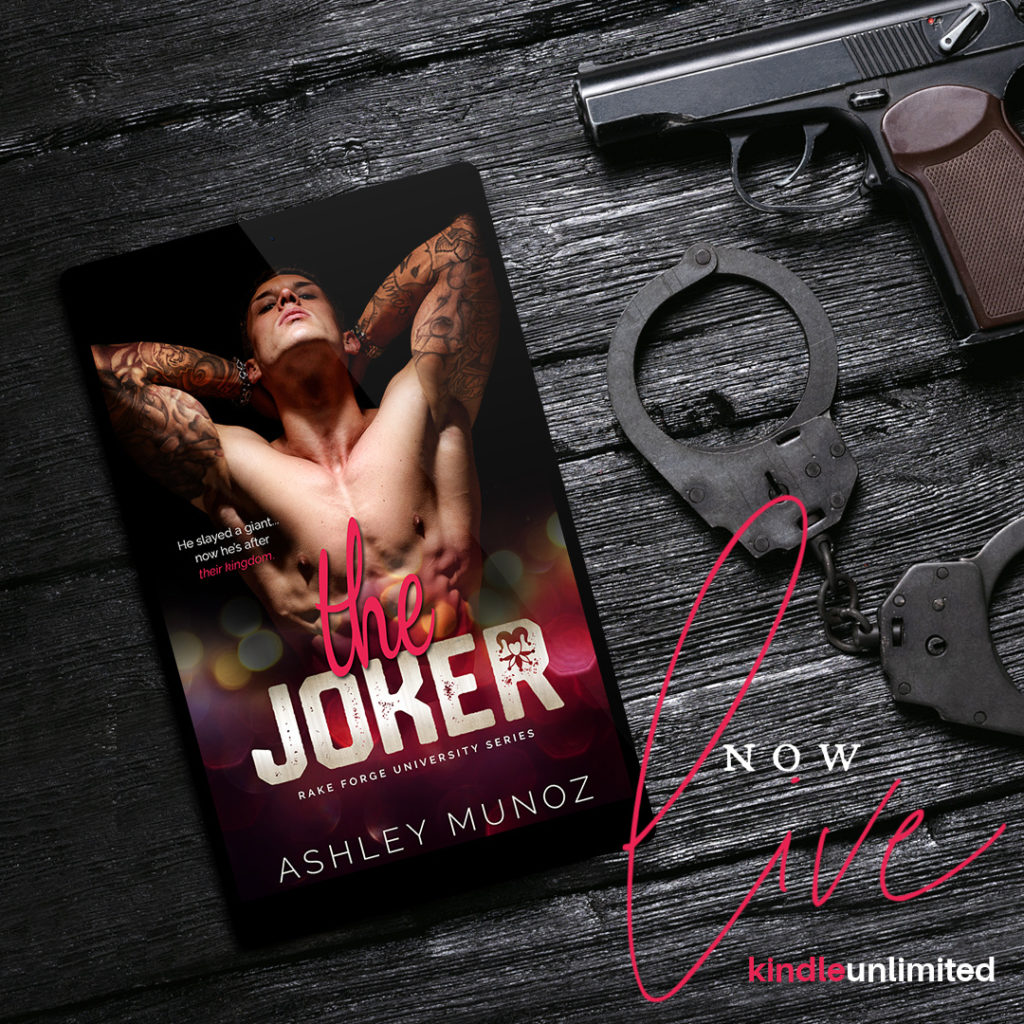 Despite their very different circumstances Rylie has been best friends with Kyle since they were children. As they grew up Rylie's feelings for Kyle went much deeper than friends, but they would only have one night together until he leaves with no explanation or further contact. Three years later she is now attending college and trying to leave him in the past when his return leaves her with so many questions and unresolved feelings.
In the past Kyle knew that distancing himself from her was the best way to protect her and the present is no different. It is best if she realizes he is no longer the boy she gave her heart to even if fate seems to be conspiring against them and pushing them back into each other's lives.
Rylie and Kyle have always belonged together until life got in their way as despite the odds, they prove that they can trust each other with their hearts and their lives.
ABOUT THE AUTHOR
Ashley was born in Nebraska, but raised in Oregon where she lives with her four children and husband.
If she's not helping her husband with DIY projects around the house, she's writing or sneaking off to a corner to read.
AUTHOR LINKS
FB Author Page | ReaderGroup | Instagram | BB | GR | AMZ Author Page | Newsletter Sign up | TikTok