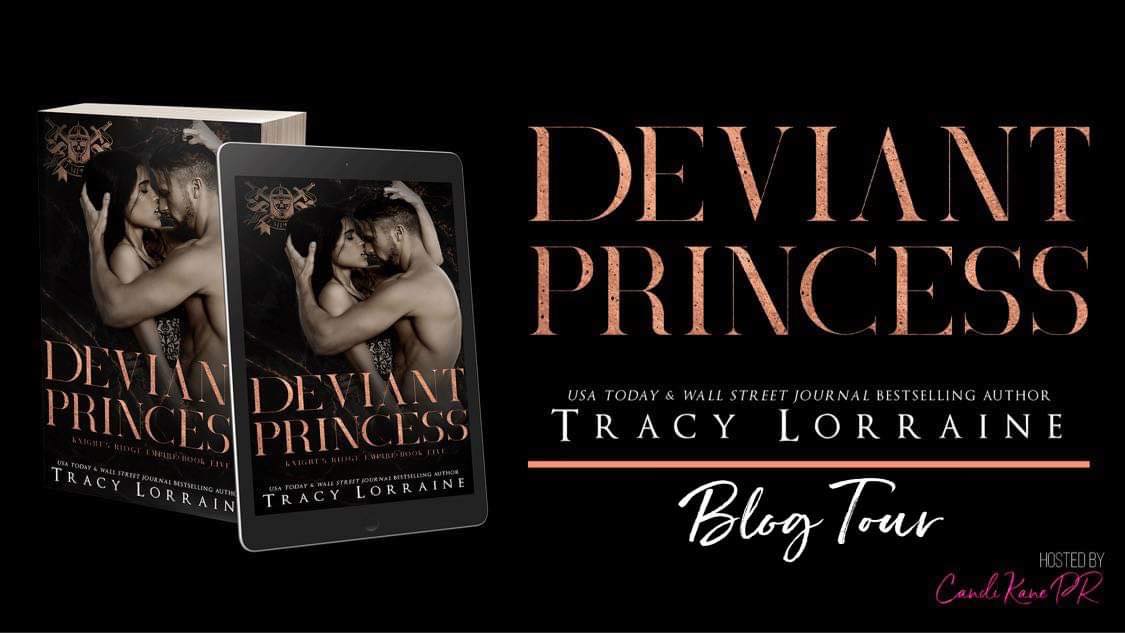 DEVIANT PRINCESS (Knight's Ridge Empire #5)
by Tracy Lorraine
Release Date: February 10th
Genre/Tropes: Dark Mafia/High school/Bully Romance
AVAILABLE NOW!!!FREE IN KU!
Amazon: https://amzn.to/3rsakom
Universal: http://mybook.to/DeviantPrincess
Read the first book in Emmie & Theo's Trilogy, Deviant Knight:
Preorder DEVIANT REIGN #3
Amazon: http://mybook.to/DeviantReign
Wide: https://books2read.com/u/4ApGdN
Wicked.
Ruthless.
Vicious.
Welcome to the underworld of Knight's Ridge. An empire steeped in history, wealth, secrets, and lies. Where nothing is quite as it seems, and the shadows lingering around every corner are ready to drag you into the darkness.
If you want a white Knight to save you, you're in the wrong place…
START the series with a FREE prequel, Wicked Summer Knight!!!
Ebook: https://books2read.com/WSK
Audio: https://bit.ly/WSK-AUDIO
Wicked Summer Knight is a prequel to the Knight's Ridge Empire series. It was previously released in the Hot Summer School Nights anthology
Add to Goodreads:
https://www.goodreads.com/book/show/59787299
Blurb:
USA Today and Wall Street Journal bestselling author Tracy Lorraine brings you the next installment of her new dark mafia, high school bully romance series.
I should have known better than to play with fire…
I'd been burned by Theo Cirillo enough to know that I should have seen this coming.
He loved to show me his merciless side, but I couldn't stay away from the deviant even if I wanted to.
A prisoner of my own making, playing a game without knowing all the rules. Until the lies he'd been telling, the secrets he'd been keeping began to unravel around us.
He's the only person I trusted with the truth about my past, but my confession was all for nothing.
He never cared. He already knew.
He was only manipulating me.
Using me.
I was nothing more than a job. A nut he had to crack.
And he split me right open, but he's about to get a shock because I'm not the kind of girl to roll over and take it.
I'm Emmie Ramsey.
And I'm about to make him pay for ever trying to play me.
Dear reader,
Deviant Princess is the second book in Emmie and Theo's deviant trilogy and the fifth book in my dark mafia, high school romance series Knight's Ridge Empire.
As truths are revealed Emmie may be angry with her family but she is even angrier with Theo as evidenced by her actions. She was developing feelings for Theo which left her feeling betrayed and refuses to understand his position let alone forgive.
Although Theo has made some mistakes you can't help but feel for him as he was conflicted between loyalty and love. His feelings for Emmie run deep and all he wants is to protect her but when all he receives is antagonism you know the sparks are going to fly.
Hot chemistry and twists that will take you by surprise all escalate into a cliffhanger that leaves you wanting more of Theo, Emmie and their story.
About the Author:
Tracy Lorraine is a new adult and contemporary romance author.
Tracy has recently-ish turned thirty and lives in a cute Cotswold village in England with her husband, baby girl and lovable but slightly crazy dog. Having always been a bookaholic with her head stuck in her Kindle Tracy decided to try her hand at a story idea she dreamt up and hasn't looked back since.
Connect w/Tracy:
Website: https://tracylorraine.com
Facebook: https://facebook.com/tracylorraineauthor
Twitter: https://twitter.com/tracy_l_author
Instagram: https://instagram.com/tracy_lorraine_author
Goodreads: https://www.goodreads.com/author/show/14879450.Tracy_Lorraine
Bookbub: https://www.bookbub.com/authors/tracy-lorraine
Amazon: https://amzn.to/36qmSBJ
NL Signup: https://tracylorraine.com/newsletter