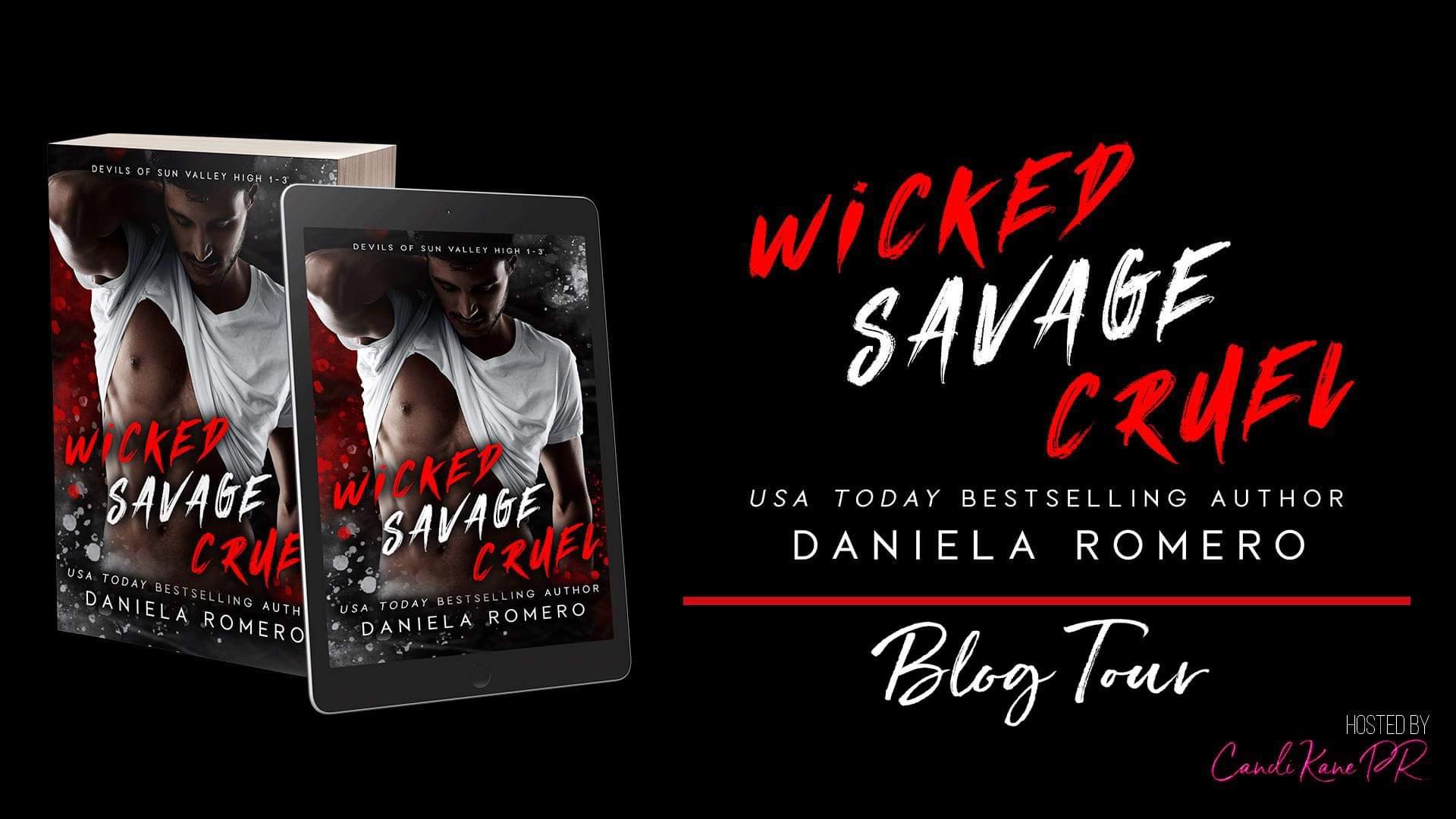 WICKED SAVAGE CRUEL BOXSET by Daniela Romero
Release Date: April 4th
Genre/Tropes: Dark, Enemies to Lovers, New Adult, Sports Romance
AVAILABLE NOW!!!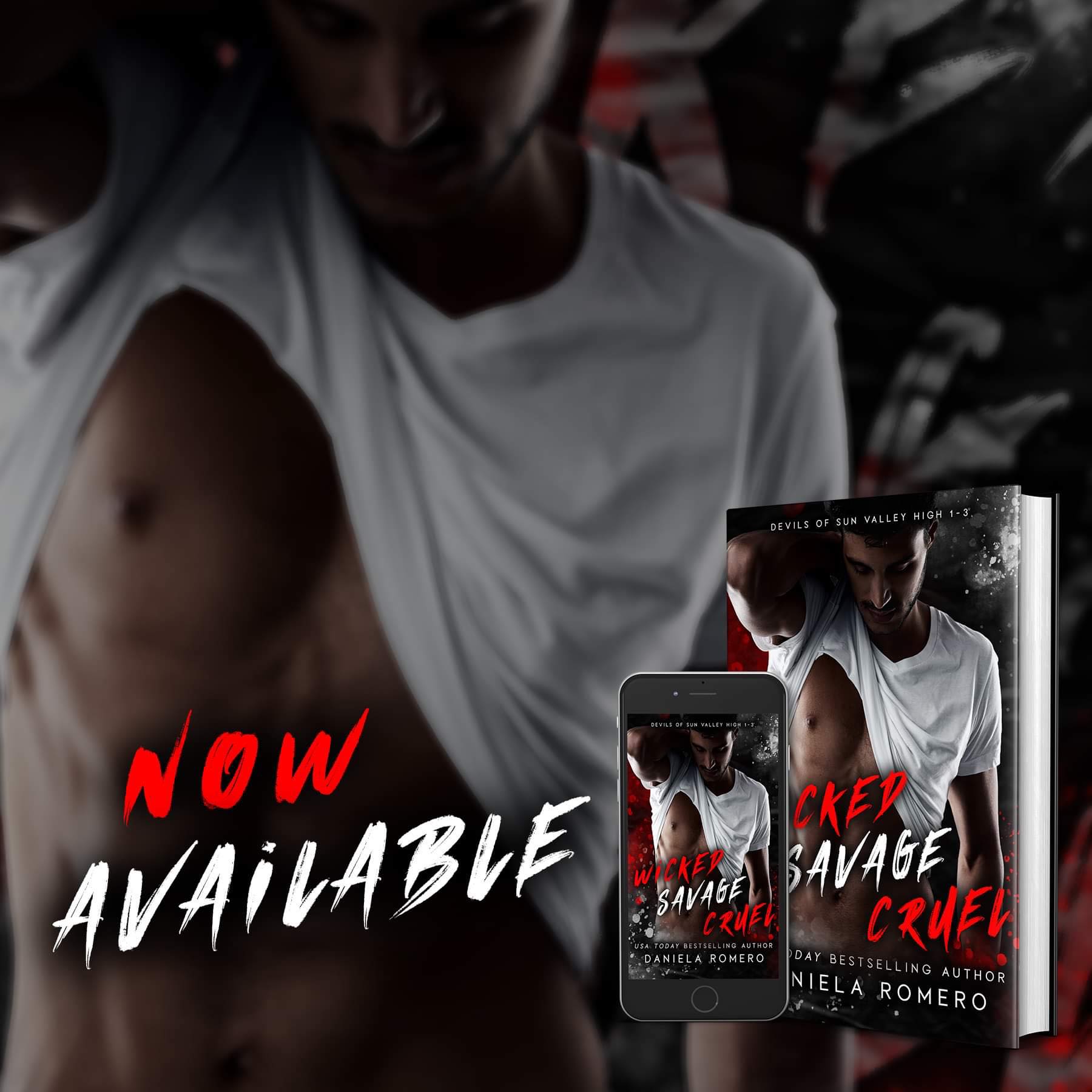 Add to Goodreads:
https://www.goodreads.com/book/show/60084332-wicked-savage-cruel
Blurb:
Never cross a Devil …
Sun Valley High is run by the Devils. It's not just their mascot, it's the crew of guys who are high school royalty.
Wicked.
Savage.
Cruel.
When they target someone, no one stands in their way. And the three young women who find themselves in the Devils' path are about to find that out.
Meet the Sun Valley High Devils and the girls who tame them in this boxset featuring three full length bully romance and enemies to lovers stories. Binge the sexiest sports romances with bad boys, brother's best friends, and one night stands that turn into so much more. Three steamy stories with HEAs guaranteed!
❤️Review❤️
Savage Devil Emilio is an elite football player for his high school team who is used to getting any woman he wants but when he meets Bibiana at a party the sparks fly, and they spend a steamy evening together only to find her gone when morning arrives. When Bibiana attended the party she wanted that night to be her first time with a guy and then they would go their separate ways so she certainly never expected to become pregnant or that fate would bring them together 18 months later.
Bibiana and Emilio take us on quite the journey as they are both dealing with family drama as well as trying to do what is best for their son. Due to their pasts, they had a few challenges in the relationship between them but they were both wonderful parents as they became the family that they and their son deserved.
I have only had a chance to read Savage Devil so far but I am looking forward to reading the other stories in this collection.
About the Author:
Daniela Romero is a USA Today and Wall Street Journal bestselling author. She enjoys writing steamy, new-adult and paranormal romance that delivers an emotional roller coaster sure to take your breath away.
Her books feature a diverse cast of characters with rich and vibrant cultures in an effort to effectively portray the world we all live in. One that is so beautifully colorful.
Daniela is a Bay Area native though she currently lives in Washington State with her sarcastic husband and their three tiny terrors.
In her free time, Daniela enjoys frequent naps, binge reading her favorite romance books, and is known to crochet while watching television because her ADHD brain can never do just one thing at a time.
Stop by her website to find all the fun and unique ways you can stalk her. And while you're there you can check out some free bonus scenes from your favorite books, learn about her Patreon, order signed copies of her books, and swoon over her gorgeous alternative cover editions.
Connect w/Daniela:
Website: www.daniela-romero.com
Amazon Page: https://www.amazon.com/Daniela-Romero/e/B08CMJPFWX
Instagram: https://www.instagram.com/authordanielaromero/
Facebook: http://www.facebook.com/authordanielaromero
TikTok: http://www.tiktok.com/@bookish_buys
Twitter: https://twitter.com/daniela_writes