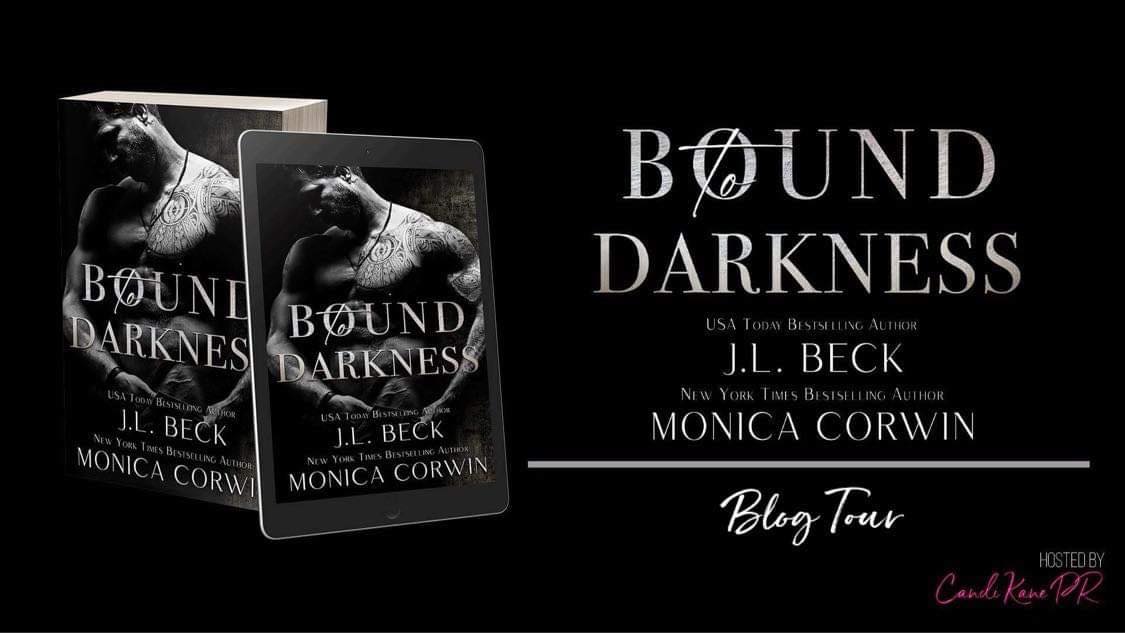 BOUND TO DARKNESS by JL Beck and Monica Corwin
Release Date: April 28th
Genre/Tropes: Mafia romance, dark romance, second chance romance
Series: Doubeck Crime Family – Standalone
AVAILABLE NOW!!!
Add to Goodreads:
https://www.goodreads.com/book/show/59981867-bound-to-darkness
Blurb:
They call me a playboy.
Society's pretty pet.
What they don't know is I'm so much more.
My only directive was to keep her hidden, and safe.
After everything she's been through I'm the last person to offer comfort and care.
I have little experience with either. Both of us have been broken by our pasts.
But mine is catching up to me, and I would deal with it as I usually do: with total decimation.
But that puts her in the crosshairs, and that's unacceptable.
Old wounds are peeled back for both of us, and it's time to face the darkness or she'll never be able to find the light.
As for me, nothing but darkness waits.
It's what I want.
It's what I deserve.
*This is book 3 in the Doubeck Crime Family Series. It is a complete standalone, and contains material suitable for adults only.*
About JL Beck:
J.L. Beck loves good books, wine, and coffee. She's a lover of words and when she isn't writing you can find her working on her newest book baby. She started her publishing journey back in 2014 and hasn't stopped writing since. Living in Wisconsin with her husband, two kiddos, and dogs she wouldn't trade them for anything. Well, maybe…
Connect with JL Beck:
Facebook: https://www.facebook.com/AuthorJLBeck/
Instagram: https://www.instagram.com/authorjlbeck/
Amazon: http://amzn.to/2srbge9
Bookbub: http://bit.ly/2tOVZl8
Goodreads: https://www.goodreads.com/author/show/8425041.J_L_Beck
Bleeding Heart Book Club Group: http://bit.ly/2sWljZG
Beck and Hallman Facebook Page: https://www.facebook.com/beckandhallman
About the Monica Corwin:
Monica Corwin is a New York Times and USA Today Bestselling author. She is an outspoken writer attempting to make romance accessible to everyone, no matter their preferences. As a Northern Ohioian, Monica enjoys snow drifts, three seasons of weather, and a dislike of Michigan football. Monica owns more books about King Arthur than should be strictly necessary. Also typewriters…lots and lots of typewriters.
You can reach Monica by emailing her at monica@monicacorwin.com or monicacorwin@outlook.com
Connect w/Monica:
Website: http://www.monicacorwin.com
Facebook: https://www.facebook.com/monicacorwin
Facebook Group: https://www.facebook.com/groups/304861823330346
Twitter: http://www.twitter.com/monica_corwin
Instagram: http://instagram.com/rosetyper9
Goodreads: https://www.goodreads.com/author/show/6585416.Monica_Corwin
Bookbub: https://www.bookbub.com/authors/monica-corwin
Amazon: https://amzn.to/3bKiihA
Newsletter Signup: http://madmimi.com/signups/267423/join
★Review★
Rose may have been rescued by Kai from a situation that no one should have to endure but her battle is just beginning. She is not only dealing with the emotional aftermath, but she is about to find out that the danger is far from over.
Kai has recently been rescued from a devastating situation of his own. The one thing he does know is that he will do whatever is necessary to keep Rose safe from those who want to do them harm.
Both Rose and Kai are fighting their feelings for each other as they to heal from their pasts. They take us on a suspenseful journey as they realize that together they can overcome anything.