CAN'T TAKE MOORE by Rochelle Paige
Release Date: June 6th
Genre/Tropes: Contemporary Romance/Small Town/Age Gap/Sports/Celebrity
From USA Today bestselling author Rochelle Paige comes an age-gap, fish-out-of-water, small-town romance about finding love and family where you least expect.
AVAILABLE NOW!!!
FREE in KU!!!
Amazon US: https://amzn.to/3xfRl3f
Amazon Universal: http://mybook.to/CantTakeMoore
Add to GR:
https://www.goodreads.com/book/show/60447814-can-t-take-moore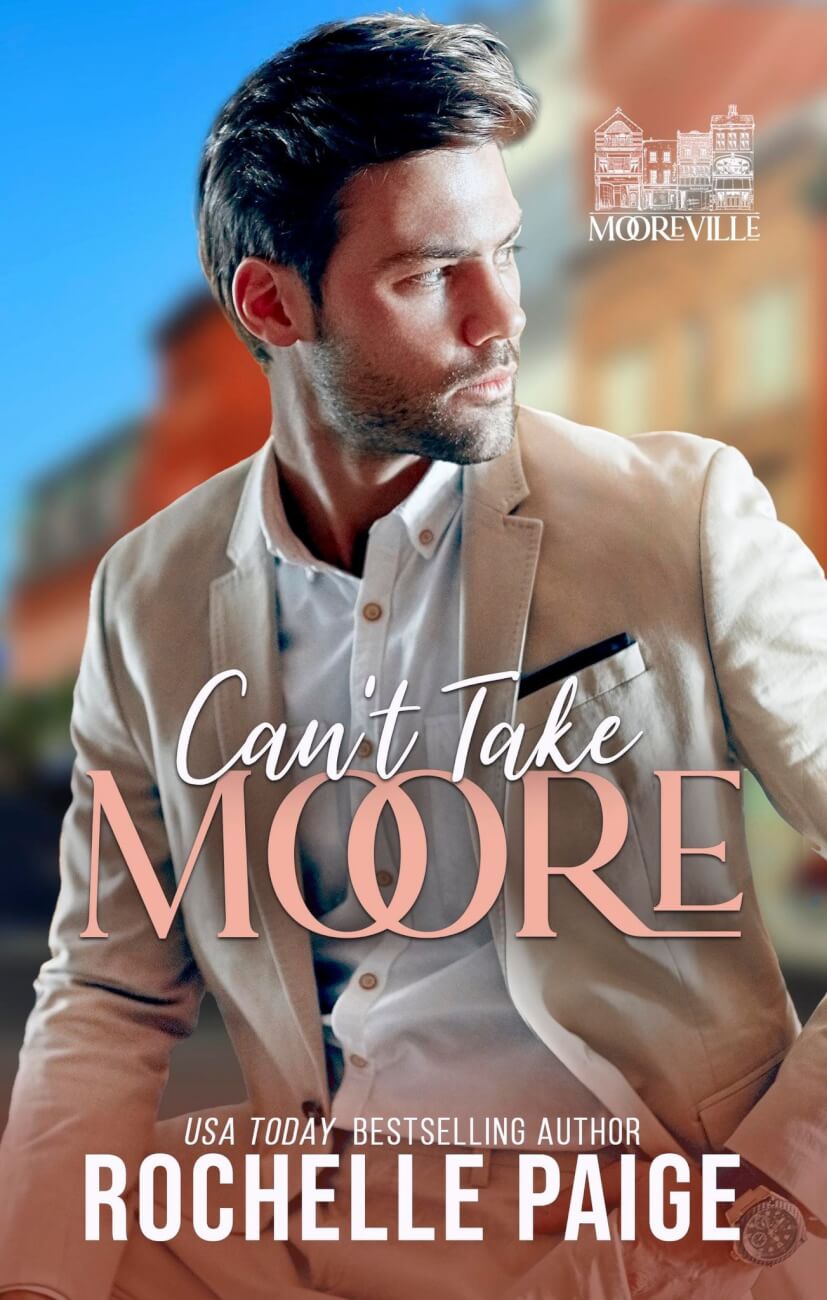 Blurb:
Olympic speed skater Vienna Frost left the big city behind—along with her mother and sister. Desperate for a change of pace, she bought a house sight unseen in a small town she'd never been to.
Vienna didn't know anyone in Mooreville except her real estate broker, Dean Moore. But his emails didn't tell her how sexy he was. Or the instant attraction she'd feel when they finally met.
Dean had one rule: never mix business with pleasure.
Until Vienna skated into his life, with walls built around her icy heart.
All of a sudden, all the rules flew out the window.
Because nothing would stop Dean from making her his. He just needed to convince Vienna to slow down long enough to fall in love with him.
⛸Review⛸
Needing to take a break from her high-profile life Vienna devises a plan to escape the pressure and her family. She found the perfect place so even though she hasn't seen the house she knows it is perfect and once she arrives for the first time in her life she feels accepted for who she is and not for what she could do for them.
Dean wasn't certain about a woman who was willing to buy a home she hasn't seen in a town she doesn't know but once she arrives the sparks fly. He knows that they belong together and isn't about to let anyone or anything stand in their way.
Dean was swoony as he and his family embraced Vienna and gave her the support and love that she deserved.
About Rochelle Paige:
I absolutely adore reading—always have and always will. When I was growing up, my friends used to tease me when I would trail after them, trying to read and walk at the same time. If I have downtime, odds are you will find me reading or writing.
I am the mother of two wonderful sons who have inspired me to chase my dream of being an author. I want them to learn from me that you can live your dream as long as you are willing to work for it.
When I told my mom that my new year's resolution was to self-publish a book in 2013, she pretty much told me, "About time!"
Connect w/ Rochelle:
Website: http://www.rochellepaige.com/
Facebook: https://www.facebook.com/rochellepaigeauthor/
Facebook Group: https://www.facebook.com/groups/RochellesRacyReaders
Twitter: https://twitter.com/RochellePaige1
Instagram: https://www.instagram.com/rochellepaigeauthor/
Goodreads: https://www.goodreads.com/author/show/7328358.Rochelle_Paige
Amazon: https://amzn.to/2XRRB8E
Bookbub: https://www.bookbub.com/authors/rochelle-paige
Newsletter Signup: http://eepurl.com/Ly1Tn