CONTROL ME by Michelle Heard
Release Day: February 6th
Tropes: Mafia Romance/Age Gap / Enemies To Lovers / Forbidden /
Complete standalone in the Corrupted Royals series
CONTROL ME, an all-new standalone in the Corrupted Royals series by Michelle Heard is NOW LIVE!
Make sure to grab this all-new enemies-to-lovers mafia romance TODAY!
NOW AVAILABLE!!!
US: https://www.amazon.com/dp/B0BRQQKRX3
UK: https://www.amazon.co.uk/dp/B0BRQQKRX3
AU: https://www.amazon.com.au/dp/B0BRQQKRX3
CA: https://www.amazon.ca/dp/B0BRQQKRX3
Add to Goodreads:
https://www.goodreads.com/book/show/62399595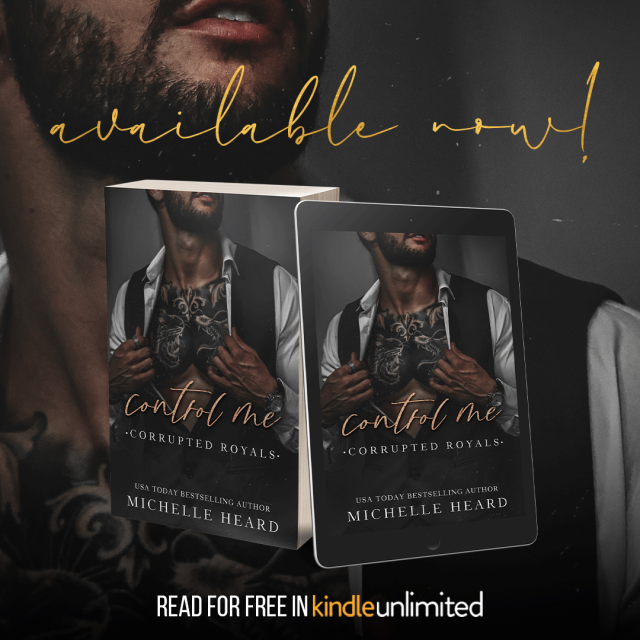 Blurb:
I wanted to be a painter. But that's just a dream because a mafia princess doesn't get to choose her future.
Still, I never let it get me down. I always try to make the best of everything.
Until I'm forced to go for brutal training, and I meet Nikolai Vetrov.
Forbidden and way too attractive, the man turns out to be my worst nightmare incarnated.
He's cold and ruthless, and I'm pretty sure there's no heart to be found in his chest, unlike mine that won't stop beating overtime at the mere sight of him.
Just because I flirted with him, he's dead set on making my life as miserable as possible.
And as if the hell I've been thrown into isn't enough, the worst thing possible happens to me. It strips me of my light and drops me into a darkness so suffocating there's no way for me to escape
There's a lot I can endure and overcome, but the trauma and Nikolai Vetrov are two things I can't handle. One of them is bound to be the end of me.
Unless a miracle happens, and let's face it, I'm well past the point of believing in miracles.
💛Review💛
Abbie may have been born in a mafia family, but it was not the life she would have chosen if circumstances were different. She now finds herself training at a mafia school where she meets Nikolai who calls to her in a way she never expected. She knows he feels nothing but disdain for her until circumstances unfold and he becomes her support system.
Nikolai wanted nothing to do with Abbie as he believes she is a privileged princess but that doesn't mean he isn't attracted to her. When she goes through a devastating experience, he is determined to help her reclaim the woman she used to be.
Abbie and Nikolai take us on an emotional journey as with his support she shows how strong and resilient she really is. The characters are captivating, but it is the depth of their emotional connection that makes them perfect for each other.
About the Author:
Michelle Heard is a Wall Street Journal, and USA Today Bestselling Author who loves creating stories her readers can get lost in. She resides in South Africa with her son where she's always planning her next book to write, and trip to take.
Connect w/Michelle:
Website: https://michelleheardauthor.wordpress.com
Facebook: https://www.facebook.com/MHeardAuthor
FB Readers Group: https://www.facebook.com/groups/118971435201074
Instagram: https://www.instagram.com/authormichelleheard
Twitter: https://twitter.com/MichelleAHorst
Amazon: https://amazon.com/author/michellehorst
Goodreads: https://www.goodreads.com/author/show/18108320.Michelle_Heard
BookBub: https://www.bookbub.com/authors/michelle-heard
TikTok: https://vm.tiktok.com/ZTd5K2HcN/
Newsletter Signup: https://preview.mailerlite.com/webforms/landing/p6m4o4