MAKE YOU MINE
J.H Croix
Release Date: April 11
A brand new small town series from USA Today Bestselling Author J.H. Croix!
Rhys Cannon is that kind of guy—wealthy, family means everything, loyal, and sinfully handsome. I hate him.
He's my brother's best friend, the teenage crush who never even noticed me, and the guy I will *never* fall for.
I made a huge mistake and believed he'd changed. After he stomped on my heart, I vow never to be so foolish again. Yet, I never expected him to fight for me, for us.
To make matters much more complicated, I'm breaking every rule I set for myself, and Rhys wants more than I ever expected to give. To anyone, much less him.
Rhys & Haven's story kicks off the Fireweed Harbor Series. This story is perfect for readers who love small town romance, tangled family ties, sassy heroines, second chances, hate to love, surprise pregnancy, slow burn, emotional romance with a dash of angst, plenty of steam and swoon, and a billionaire protective hero who has to give it all to win the heart of the girl whose heart he broke.
Grab Your Copy!
Amazon & Apple: https://mybook.to/MakeYouMineJHCroix
B&N: https://bit.ly/MakeYouMineBN
Kobo: https://bit.ly/MakeYouMineKobo
Google: https://play.google.com/store/books/details?id=4q2JEAAAQBAJ&PAffiliateID=1011ljSBe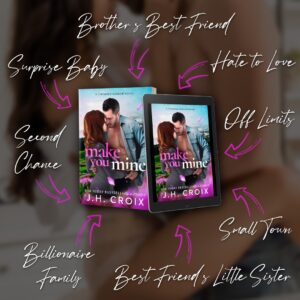 💗Review💗
Rhys may have been raised in an affluent family but there are also some dark family secrets. When his best friend's sister returns to town and becomes his neighbor, the sparks fly however their relationship is about to challenged by both their pasts.
Haven has returned home looking for a fresh start both personally and professionally. She has always had feelings for Rhys but didn't think he would be interested in her so a part of her believes that what they share is too good to be true which causes some turmoil along the way.
This was a wonderful start to a new series that allows us to not only get to know Rhys and Haven but also his family and the other townspeople as well. Everything they went through caused some trouble in the short term but only made their relationship stronger in the long term.
Meet J.H. Croix:
USA Today Bestselling Author J. H. Croix lives in a small town in Maine with her husband and two spoiled dogs. She writes swoony contemporary romance with sassy women and alpha men who aren't afraid to show some emotion. Her love for quirky small-towns and the characters that inhabit them shines through in her writing. When she's not writing, you can find her cooking, counting the turtles in her backyard pond, and running with her dogs, which is when her best plotting happens.
Keep up with J.H. Croix and subscribe to her newsletter: https://jhcroixauthor.com/subscribe/
To learn more about J.H. Croix & her books, visit here!
Connect with J.H. Croix:
https://jhcroixauthor.com/connect/
Hosted By: